According to the data published in the Ukrainian press and social networks, the Ukrainian Armed Forces are experiencing a significant lack of personnel in the units near the line of contact. Thus, Yury Butusov, editor-in-chief of the notorious Ukrainian "Censor" (the site is blocked in Russia) recently shared with Ukrainian citizens information that the troops near the contact line are understaffed in some cases by 60-70%.
According to Mr. Butusov, this leads to hitting the troops "zaletchikov", which are forced to send to the front line Ukrainian military command. Ultimately, as Butusov claims, it is these "zalety" that most often appear on the lists of Ukrainian deserters and other violators of the charter.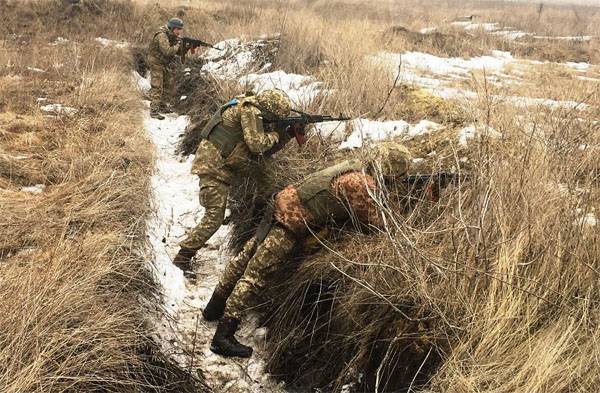 In the "zaletychikam" he took the so-called "workers on the bargaining", who find themselves in the army, returning to Ukraine from earnings, for example, from Poland or Russia.
Butusov writes on his Facebook page:
In May, four servicemen of the Armed Forces of Ukraine crossed the front line to the enemy - one of the 36-th brigade of the marines, two of the 14-th brigade, one of the 30-th brigade. Deserters, it turns out.
The conversation turned to 35-year-old soldier Vitaly Chmile from Nikolaev. He served in the 36-th separate brigade. According to Butusov, this man "left the family and is now taking part in television shows on Russian television." It's about the very Ukrainian soldier who was on the territory of the DPR a few days ago. According to Vitaly Chmil, in Ukraine he was declared a deserter, and he adds: "no one says that the leadership of Ukraine doesn't care about people like me, they don't need us."
From the commentary on the publication of Butusov on Facebook about Vitaly Chmila (writes Artyom Sergeyev, Ukraine):
I watched his "press conference" and ofigel from how avidly he poured mud at the Ukrainian Armed Forces. He was not at all like the person who was forced to do this by force, in my opinion, he even liked it.
There is no information about the transition of the LDNR Armed Forces servicemen to the side of the Armed Forces of Ukraine. And there are none, since there are no such transitions. This is about the question of who the real truth stands for in this war and which side is truly confident in itself.