Turkish Foreign Minister Mevlut Chavushoglu said that Ankara is considering the possible closure of the Incirlik airbase for the United States because of Washington's unfriendly policy.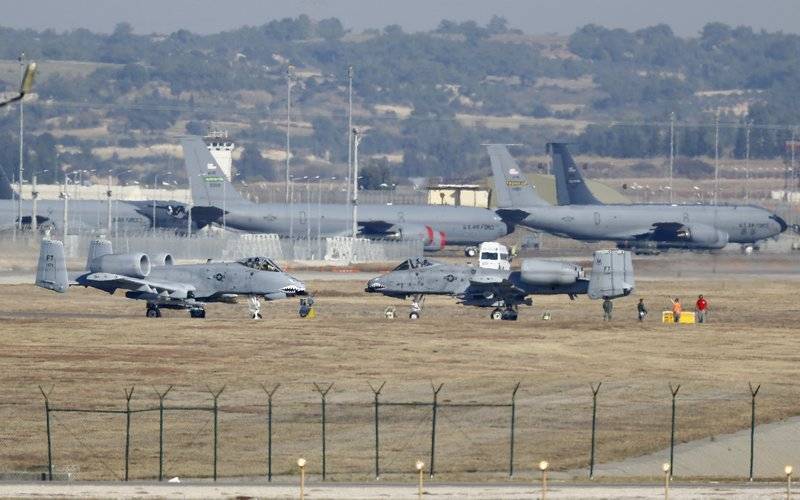 In his statement to A Haber, Cavusoglu noted that Turkey is trying to improve relations with the United States, but the American authorities do not want to go to a meeting. The main reasons for the controversy, he called the failure of Turkey to extradite opposition politician Gulen, support for the Kurds in Manbidzh, as well as some other problems. Also, the Turkish Foreign Minister added that the Turkish people oppose the presence of American aircraft in the country.
Recall that relations between Turkey and the United States are in crisis due to the support provided by Washington to Kurdish forces in Syria (YPG), which Ankara considers terrorist because of its ties with the Kurdistan Workers Party banned in Turkey. Ankara also demands that the United States extradite an opposition preacher, Fethullah Gulen, who was allegedly involved in organizing an attempted coup in July 2016. Recently, frictions between Turkey and the United States have also arisen on the issue of buying the Russian C-400 air defense system. Washington is trying to put pressure on Turkey in order to prevent the supply of air defense systems to the Turkish army, but Ankara rejects the claims of the American side in every way, declaring unfriendly US policy towards the Turkish state.
Incirlik airbase belongs to Turkey, not NATO, therefore Ankara has all rights to expel the American air force from its territory.