US ambassador to the UN explained when the US will lift sanctions from Russia
The United States Permanent Representative to the UN, Nikki Haley, said that the United States would lift the sanctions imposed on Russia only when Russia returns the Crimea to Ukraine and withdraws its troops from the territory of the Ukrainian Donbass.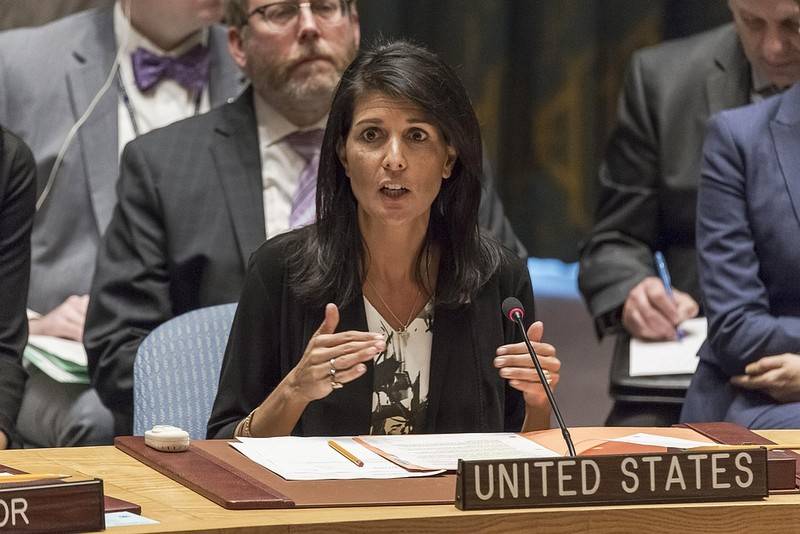 According to her statement, at present, the United States, together with Germany, France and Ukraine, is making every effort to bring peace to the east of Ukraine, while Russia refuses real cooperation and hinders all US peace initiatives.
Thus, Haley once again reiterated Washington's stance on the imposed sanctions. Not listening to Russia, the United States constantly repeats the same thing: the LDNR militia allegedly directly submits to the Russian military, who supply them with thousands
tanks
and armored vehicles. According to Haley, the Russian Federation violated its promises regarding truces in the conflict zone, allowing and instructing its forces to detain, threaten and even shoot at international observers, at their cars, cameras and
drones
.
Recall that the US and the EU imposed sanctions against Russia in 2014, linking them to the annexation of Crimea to Russia, and in connection with the conflict in the Donbas.
All statements by Russia that the procedure for the annexation of the Crimea fully complied with international standards, and there are no Russian troops in the Donbass, the United States does not pay any attention, continuing to assert the opposite. Since we are not going to return the Crimea, we will have to live for a long time under American sanctions.
http://www.globallookpress.com/