The situation in Syria. Militants have formed a large compound in Aleppo
Terrorists arrest civilians in Idlib. The Kurds suffered casualties as a result of an attack by an unknown in Hasaka. The SAA Scout, who worked under the cover of the terrorists, returned after completing the task. Reports about it
FAN
with reference to local sources.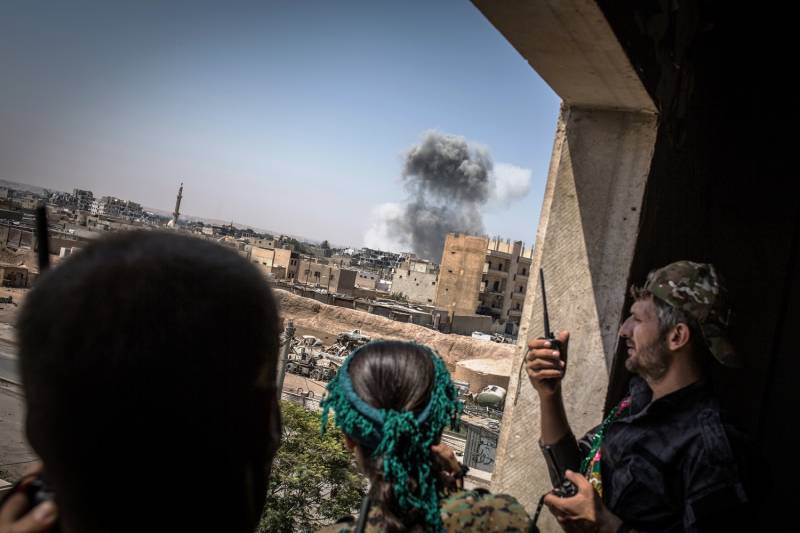 It became known about the creation of a new anti-government alliance in the province of Aleppo. 11 of various groupings, 2-I coastal division, First and Second coastal divisions, "Idlib Free Army" and others are included in the opposition National Front.
In the province of Homs, two IG fighters were arrested (the group was banned in the Russian Federation), who were trying to get into the territory of the SAR. Recall that in the south of the province is located the American base At-Tanf, on the territory of which the igilovtsy were repeatedly observed. Earlier, the Russian Defense Ministry reported that the militants who are being trained by the US military in At-Tanf could also be involved in the attack on the Russian military in Deir ez-Zor on May 23.
During the day, the Syrian air forces carried out several reconnaissance flights over the Dar'a provinces under the control of illegal armed groups. Recall that the region is preparing for a large-scale offensive against terrorists. In the evening, there were reports of artillery strikes in the area of ​​Dail, Itba and Yaduda.
On Tuesday, local publications reported the safe return of one of the CAA scouts, who held a high position in the terrorist coalition led by Dzhebhat an-Nusroy (banned in the Russian Federation). Abu Khadija Al-Furtai gained confidence in the Islamists and passed on information about the location of the radicals and the upcoming raids to the government forces. This information was also confirmed by opposition Internet resources.
In Idlib, Al-Nusra militants arrested several men and women for their association with igilovtsami. In the afternoon, it was reported that the arrested had no relation to the IS, but belonged to the local residents. Later, terrorists conducted a series of searches in settlements near the city of Al-Dan. According to other reports, objectionable "en-Nusra" members of other armed formations are arrested.
In the city of Hasaka, an improvised explosive device worked. Killed several Kurds from the "Democratic Army" (SDF). It is assumed that the IED installed militants IG. In addition, the Kurds suffered losses as a result of attacks by unidentified persons in the city of Al-Shaddadi. In the south of the province, there were armed clashes between the IS and the Kurdish troops. In the afternoon, the air forces of the Western coalition also joined the detachments of the "democratic forces". In addition, the fortifications of terrorists in the area of ​​the village of Tal Ash-Shair were under fire from the Iraqi militias. Recall, the pro-government forces of Iraq act on the territory of the SAR with the consent of the Syrian government.
http://www.globallookpress.com