Vasily Nebenzja: The level of schizophrenia in Ukraine exceeds the limit
The Minister of Foreign Affairs of Ukraine once again appealed to the UN member states. According to Klimkin, the "international community" should increase the pressure on Russia and contribute to the introduction of peacekeepers in the Donbass. In the sense of Mr. Klimkin, peacekeepers should not be placed on the contact line, where battles resumed with a new force and people die every day, but certainly on the border between Donbass and Russia.
Klimkin emphasized the fact that not only political or economic pressure should be exerted on Russia, but also moral pressure.
It is precisely "moral pressure" that can be called statements made in the UN Security Council in connection with the murder in Kiev of the Russian "opposition" journalist Arkady Babchenko. Recall that Babchenko was killed the day before at the entrance of the house where he lived in the Ukrainian capital after the move (for more details, see
our material
).
Permanent Representative of the Russian Federation to the UN Vasily Nebenzya did not leave another baseless accusation, now not only in the alleged Boeing blow from the Russian "Buk", but also in the murder of Babchenko in Kiev, without an answer. According to Vasily Nebenzi, all this speaks of the overwhelming level of schizophrenia in Ukraine.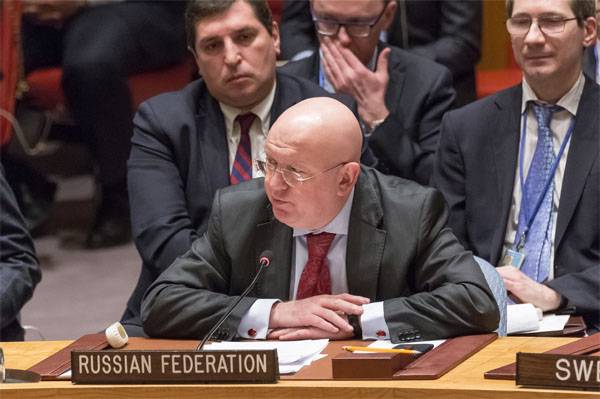 Regarding the accusations of involvement of the Russian Federation in the blow to the MH-17:
Considering what kind of evil methods some individual states are working with today, we can only trust those investigations whose full member is Russia (...) Do you know what Kiev authorities throw buckets of slop and hate on Russia, what lies they allow themselves to say and What anger they pyshut? However, not only they. Do you know what kind of nonsense and fables are carried by some Ukrainian media?
On the murder of Babchenko, Vasily Nebenzia noted that he doubts that the Ukrainian investigation will look for real killers of a Russian journalist. According to him, for Ukraine and a number of states supporting it, the thesis about the "trace of Russia" has become truly universal - without any consequence.
http://www.globallookpress.com