Jordan: Russia must stop the forces of Assad in southern Syria, it is - the guarantor
Jordanian authorities say that the armed conflict in southern Syria should be stopped soon. Recall that at the moment government forces after the complete liberation of Damascus, moved to the south of the country (in the province of Daraa and Kuneytra) for the complete destruction of the terrorist groups "entrenched" there. The terrorist Islamic State (prohibited in the Russian Federation) is being pressed against the southern borders of Syria.
Today, information has arrived in the south of Syria that the mixed militant groups are going to unite to oppose the Syrian government forces. And it is necessary to assume that this kind of association is hardly complete without external patronage.
In Jordan, against this background, they said that they "trust Russia" and hope that "Moscow will influence Bashar al-Assad, and he will give the order to the CAA to stop the offensive in Dara and Kuneitra." Recall that in part these provinces of Syria are located in a single - southern - de-escalation zone.
In turn, the intelligence agency of the CAA states that it is through this zone that militants freely move across the Jordanian border and receive supplies from Jordan. In Jordan, the accusations are rejected, stating that "the forces of the democratic opposition" are concentrated in the south of Syria.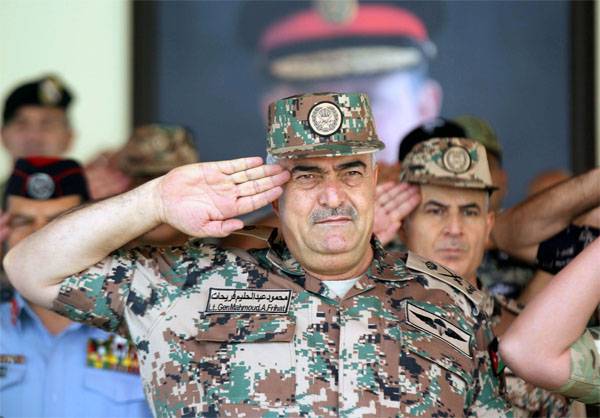 Jordan Army Commander
Jordanian official quotes
Rider
:
In the zone of de-escalation in the south of Syria, fire should be completely stopped. Let me remind you that Russia, the United States and our country guaranteed the implementation of the cease-fire. We keep the guarantees, and expect the same from Russia, which may affect Assad. We are closely monitoring the situation and are concerned about the Iranian military presence in southern Syria. Jordan is ready to provide its security.
http://www.globallookpress.com