The US media publishes a report on "non-combat injuries" of US Air Force personnel from 2011 to 2017. The Defense News article says that we are most often talking about absurd situations in which the American military of the air force is to blame. Here are just a few examples that speak about the nature of injuries and injuries - not only from the pilots, but also from the Air Force support staff:
March 2011 years. Randolph (Texas). A US Air Force pilot dropped out for a few days due to being subjected to multiple insect bites. He developed a severe allergic reaction. December 2012 years. US Air Base in Qatar. A representative of the US Air Force technical staff slipped on a cargo rink, got a back injury and a concussion. Eliminated for a period of more than three months. July 2015. Base Elmendorf-Richardson (Alaska). The technical serviceman climbed onto the chassis of the military transporter C-130H, fell, and as a result, as stated in the report, "received a delicate injury" - a testicle injury. Out for a few days.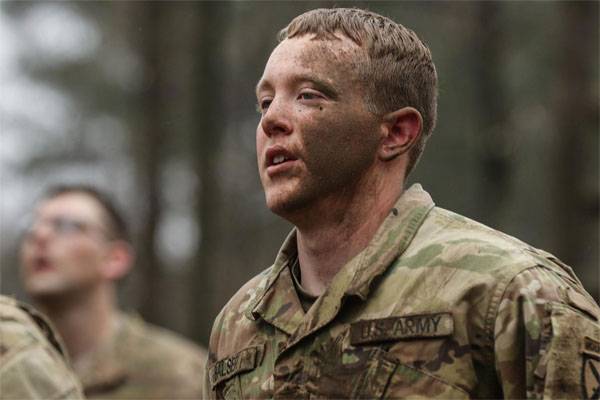 It is stated that from 2011 to 2017 years in the USAF due to this kind of incidents 8,67 thousand working days (days of service) and hundreds of millions of dollars were lost. It was noted that the number of injured in the US Air Force continues to grow from year to year. It was noted that the case of deliberate injury for military insurance payments, which in the USA for military personnel sometimes exceeds 50-100 thousand dollars, was also revealed.
It is noted that the most frequent recent injury in the US air force was concussion. Identified 155 cases.
It was also stated that in more than 730 cases the causes of the injuries to the servicemen were not identified. Human rights activists in the United States have already become interested in this number, saying that we can talk about non-statutory relations.
What are the reasons for the increasing number of injuries listed in the report? Stated that we can talk about the congestion of military personnel due to the lack of staff. Also named the problem of the lack of a unified standardization in the performance of certain works. It is not entirely clear how complete staffing or standardization could prevent insect bites or testicular injury when a soldier falls from an airplane wheel.