Amy Mac Oliff, Chairman of the National Intelligence Council
The last name Mac Oliff will cause the Russians the biggest association with Australian film actor Callen Mac Oliff, who is a little more than 20 years old, but who has already managed to act in a bunch of movies and TV shows.
Few Russians know that the head of the American National Intelligence Council (NDS) bears the same last name. It is about Amy McAuliffe, whose image I, I must admit, could find with great difficulty: in the media - just a mention in passing. Nevertheless, something "dig up" still managed.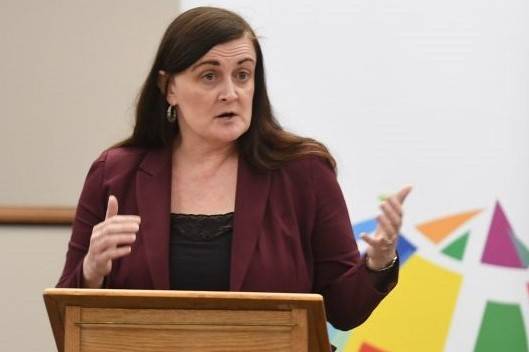 Picture taken at the University of Notre Dame 30 October 2017.
As a CIA officer with a 20-year experience, Amy Mac Oliff 28 October 2016 was appointed chairman of the National Intelligence Council (this name is also found in the domestic media). The appointment was made by United States National Intelligence Director James Clapper. Mack-Oliff replaced Greg Treverton, who served as the head of the NDS from September 8 2014.
Previously, Mc Oliff served in senior positions in the Office of the Daily Reporting of Information to the President in the Office of the Director of National Intelligence and in the Office of the CIA for the Analysis of the Situation in the Middle East and North Africa.
Having taken up the position of the head of the NDS shortly before the departure of President B. Obama, Amy and under President D. Trump were in place. By the way, the same Klapper was fired on the very first day of the Trump presidency.
Mac-Oliff provides intelligence, intelligence materials, and evaluation materials to the US president, top military commanders, and government agencies that could assist in making effective decisions on national security issues. Her responsibilities also include organizing research on targeted requests from US politicians and managing intelligence resources held by the NDS.
Amy has degrees from the University of Notre Dame, the American University and the Marine Corps University.
It is noteworthy that women in the United States intelligence community occupy an increasingly prominent position. For example, the position of Deputy Director of the Military Intelligence Agency (Intelligence Directorate of the Ministry of Defense) from 2016 was held by Melissa Drisco. It is also known about the recent appointment of Gina Haspel to the post of director of the CIA.