BDK "Peter Morgunov" launched in Kaliningrad
A large landing ship (BDK) of the 11711 project "Peter Morgunov" was launched at the Yantar plant in Kaliningrad. This is the first serial ship of the 11711 project, with a displacement of 5 thousand tons, which is the largest in its class, said the Ministry of Defense. The ship was laid at the Yantar plant in June 2015.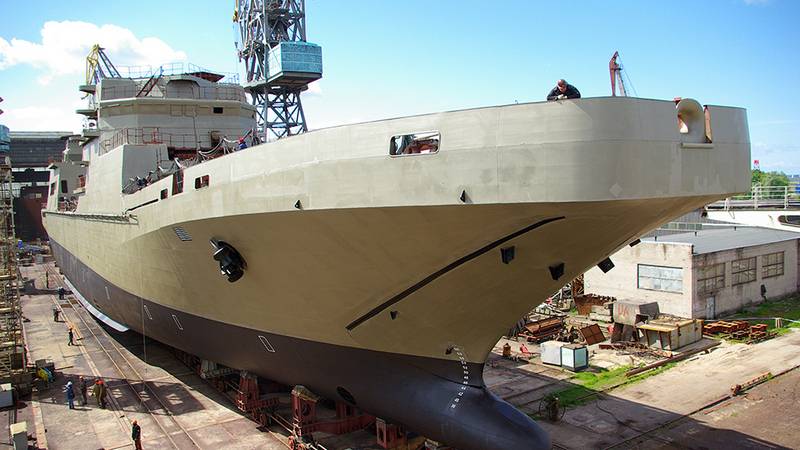 The military department explained that BDK 11711 is the latest development of project 1171, according to which in 1960-1970 the Yantar Shipyard built a series of 14 ships. The ship can accommodate 13
tanks
or more than 30 armored personnel carriers and infantry fighting vehicles. The BKD also provides for the deployment of a reinforced battalion of the Marine Corps, as well as the temporary deployment of various types of ship helicopters. The ship has a cruising range of 4 thousand nautical miles, which allows you to perform tasks in the far sea zone.
The loading of equipment onto a ship can be done through a ramp or with the help of crane equipment placed at the request of the main command of the Navy.
After completion and completion of the entire complex of tests, the BDK will become part of the Russian Navy, while it is not yet known which
the fleet
ship will be attributed.
Recall that the lead ship of the 11711 project BDK "Ivan Gren" was laid in the 2004 year and launched on the 2012 year in May. Currently, he is at the stage of ending the tests and in the near future should replenish the composition of the Russian Navy.