Two columns of US armored vehicles are moving toward Russian borders: forced war
Information Service
Deutsche Welle
publishes material that two columns with hundreds of military equipment each move through the eastern federal lands of Germany. It is noted that the convoy contains a huge number of military vehicles, infantry fighting vehicles, as well as
tanks
. This technique belongs to the US Army.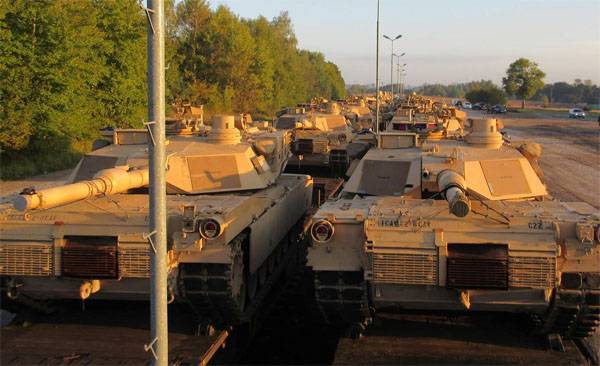 Photos of past years
Information is confirmed by the brigadier General Kai Rorschneider, who is the chief of staff of the American armed forces in Europe. According to Rorschneider, located in German Leipzig, one of the columns consisting of approximately 2 thousand units of military equipment is sent to large-scale exercises in the Baltic republics, and the other, in which about 1,4 thousand units of equipment, goes to Poland.
The convoy heading to Polish territory consists mainly of tanks and other armored vehicles, which recently arrived by sea from the United States and were unloaded in the Belgian port of Antwerp a few days ago.
The headquarters of US troops in Europe noted that the transfer of military equipment to the eastern borders of the North Atlantic military bloc is carried out as part of Operation Atlantic Resolve, developed earlier by the NATO command. Earlier, VO reported unloading US military equipment in the Belgian port (
material - by reference
).
This is one of the most large-scale deployments of US military equipment to the borders of Russia lately. At the same time, the authorities of the Baltic States seem more enthusiastic than others.
Recall that earlier the US military command complained that the Baltic republics did not have the proper infrastructure to accept a large number of American armored vehicles. In particular, it was about the absence of the required number of bridges that could withstand the transfer of hundreds of Abrams tanks. Also, the conversation turned to railways, whose gauge does not meet the "European standard."
It is noteworthy that after each subsequent NATO exercises in Poland and the Baltic states, the number of military equipment units remaining there only grows. At the same time, NATO every time they say that this is "a response to the actions of Russia." Recall that the decision to deploy the NATO battalions in Poland and the Baltic States was made at the summit of the military bloc in Warsaw.