Ramzan Kadyrov: Chechens saved Ukrainians from starvation, and Poroshenko responds with sanctions
The head of the Chechen Republic commented on the statement of Petro Poroshenko on the sanctions imposed on him. Recall that on the eve of Ukraine, new sanctions were introduced, which affected several Russian journalists and the media. The billionaire Poroshenko decided to include billionaires Deripaska, Vekselberg, Rotenberg, Karimov and others on the sanctions list. Under the sanctions, the head of Chechnya, Ramzan Kadyrov.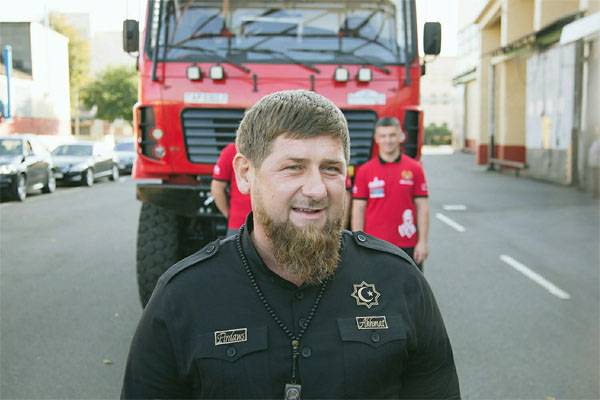 On the social network, Kadyrov published a note in which he expressed his opinion on the measures taken by the Ukrainian President Poroshenko. According to Ramzan Kadyrov, Poroshenko imposes sanctions against him, and once "our ancestors saved thousands of Ukrainians from starvation." Kadyrov notes that the Chechen people once sheltered, clothed and fed a huge number of Ukrainian women, children and old people.
Kadyrov:
No one was denied shelter, no one was left hungry.
The head of Chechnya noted that the descendants of those Ukrainians today live in the Czech Republic.
Ramzan Kadyrov, in his commentary, stated that his appeal was not a reproach and not a reproach. Head of Chechnya:
This is a reminder of Poroshenko, that only the Russian people will come to the aid of the Ukrainians in the hour of trouble, and not the Americans and their satellites.
Further, the head of the Russian region notes that for him and the entire Chechen people, the people of Ukraine remain fraternal, and this attitude will not be affected by the attempts of the Ukrainian leadership to appeal to overseas "partners."
Recall that the same Poroshenko himself repeatedly referred to the famine in Ukraine (the so-called Holodomor), from which "hundreds of thousands of Ukrainians had to flee." And many thousands of them moved to other regions of the USSR, including the North Caucasus. The Ukrainian president does not like to mention this.
http://www.globallookpress.com