The Kazakh armored personnel carrier Barys 6x6 received a combat module from the BTR-82A. The new version of the armored car is presented at the international exhibition KADEX-2018, currently taking place in the capital of Kazakhstan - Astana.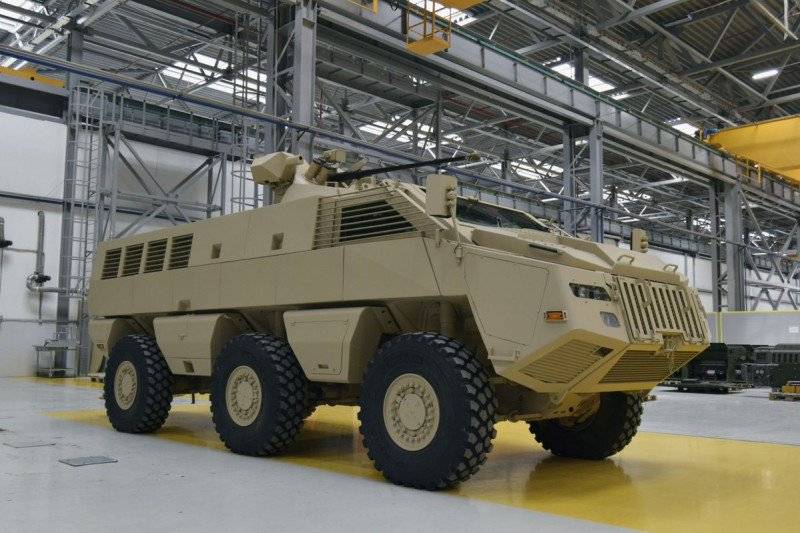 It should be noted that a large number of Russian BTR-82А are in service with the country, and by installing the combat module on Barys, Kazakhstan's gunsmiths achieve unification with Russian armored vehicles. The module is armed with 30-2 automatic gun and 72-mm PKTM machine gun stabilized in two planes.
The Barys 6X6 is a variant of the Mbombe South African armored personnel carrier with enhanced mine protection, providing protection against landmines, improvised explosive devices and side explosions, as well as, according to the developers, RPG shots with non-dandem warheads.
It can be configured as an armored personnel carrier or as a highly efficient infantry fighting vehicle, armed with a large-caliber machine gun, automatic grenade launcher or automatic gun / remote-controlled turret, and it is possible to install an 120-mm mortar.
The weight of the armored vehicle reaches 22 500 kg. Engine power 450 HP allows you to reach a maximum speed of 110 km / h. Power reserve - 1000 km. Capacity - 11 people. The machine is able to accommodate the driver, commander, weapon operator and 8 fully equipped infantrymen (with
weapons
, ammunition and necessary equipment).