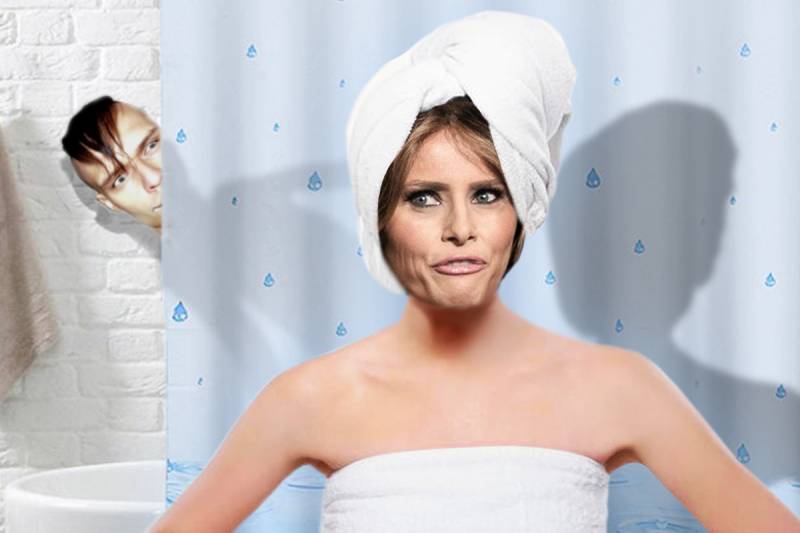 Reading Ukrainian bloggers is a real pleasure. You will learn the secrets of the Russian special services and the essence of behind-the-scenes negotiations of politicians, the content of the most secret documents and the texts of encrypted radiograms of agents of world intelligence. Not every news agency compares in terms of its level of awareness with an ordinary Ukrainian blogger.
How do they know all this? Did they personally attend the secret negotiations? Listen to government phone lines? Read the private correspondence of diplomats?
Do not ask stupid questions: for those who want to know the truth, there are no obstacles!
In closed Russia-EU negotiations
"Guten Morgen, Herr Putin," Angelina Merkel smiled.
"And you are a guten mortuary," the Russian president joked, "sit down." - He gesture invited the German Chancellor at the table.
Frau Merkel sat down and slowly began:
- Mr. Putin, we in Europe are very concerned about the latter
the news
coming from Ukraine. What the hell is going on there! Macron and I have consulted and believe that it is necessary to take drastic measures. We think ... oh! - Angelina screeched and jumped up. - What is there ?!
- Where? - Putin looked surprised.
- There, under the table. I'm sure there is someone there!
- Oh, under the table? Do not pay attention, this is a Ukrainian blogger. Or a political scientist, an expert, as they call themselves. So what have you agreed with Macron, continue, I listen to you ...
In the positions of Donbass militia
- It's good that you are a volunteer, we need these. - A sergeant walked through the trench and, without turning around, led a briefing. - And yet, you probably did not say: we have one civilian hanging out here, so, by no means speak to him!
- Secret?
- What, in stump, secret. Ukrainian blogger. He walks here, hides. We pretend not to notice him. We feed up sometimes.
- What for?
- Sorry. After all, it will be gone. Go to his hide, put a pot of hot porridge near the hole and bend down, as if to draw the lacing on the top. Straighten up - no more porridge. You look around, depict bewilderment: they say, where did this bowler go? The main thing is not to replay. Then we read his posts on Facebook: "For the second week I, risking my life, observe the actions of the separatists, being in the midst of enemies ..." He writes funny.
In the headquarters of the Strategic Missile Forces
Colonels ran like young lieutenants, generals sweated like ensigns.
- What are you standing on the road again ?! Shouted a gray-haired colonel-general at a young man with a laptop under his arm. - And without you sick! We now have a blow to the LIH (prohibited in Russia), and you are here on the road, like a pimple on your ass!
"Mmm," the young man moaned back.
"Dude," the general took him by the sleeve, "sit here, on the sidelines, you see, we have already specially set the chair for you." Sit down and write to your blog, we do not bother you? Well, that you do not bother us.
White House, USA
"I can't do this anymore, Donald!" - Melania ran into the Oval Office, wringing her hands.
- What else happened dear? - Trump stood up, walked over to his wife and hugged her. - Well, who offended my cat?
- This Ukrainian blogger - he finished me off. I try to treat him well, so I put a double portion of pedigree in a dog bowl - I know that he is feeding there. I no longer pay attention when I see him rummaging through the papers on your desktop ... But in the bathroom I cannot pretend that I do not notice him!
- Well, dear, I will give an indication, and visitors will write him a thousand and a half messages that photos of nude Melania Trump are not at all interested in them. I am sure this will be enough.
Strasbourg, headquarters of the Council of Europe
Ukrainian blogger came to the door and prinik her ear. Behind closed doors, there was talk of imposing new sanctions on Russia. The blogger went down on all fours, gently opened the door with his forehead and stalked into the hall.
The speaker interrupted his speech and looked with surprise at the person walking on all fours.
He stopped and turned his head:
- Meow!
- Oh, a cat, - he thought and continued his speech.
The next day you will read in Ukrainian blogs:
- what Angela Merkel said to Putin in closed negotiations;
- about the next "crimes" of the Donbass separatists, which they hide from the world;
- about the next "failure" of the Russian military;
- what is the ultimatum trump put Putin;
- what kind of punishment threatens to bring down Europe in the near future on Russia.
And all this you must believe! Because all this is not sucked from the finger, and the information obtained from "sources that inspire confidence."