After the opening of the road part of the Crimean Bridge, it became clear that large infrastructure projects were well within the reach of modern Russia. And immediately there was renewed talk of the need to build a bridge to Sakhalin Island - a project of no less ambitious, and taking into account the construction of access infrastructure with a length of about five hundred kilometers, it is also more expensive.
The implementation of this project in the form of a tunnel under the strait began under Stalin. But then "something went wrong," and the construction of the century stopped. Then periodically there was talk about the construction, but it did not go further. And now, it seems, the affair has moved off dead center ...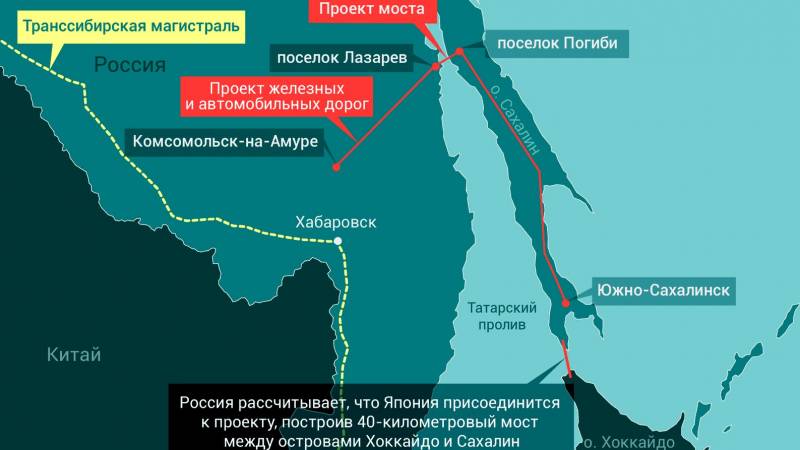 The need for this construction was confirmed, in particular, by President Vladimir V. Putin. True, he announced the figure 286 billion rubles - that is, only the cost of the bridge itself. Now, having preliminarily calculated all the costs, the experts are talking about a figure twice as large - about six hundred billion rubles. This is not just more: even by expanding this figure into five to six years of construction, we get quite a lot of money, which is unlikely to pass on to private investors or poor Far Eastern regions.
The issue with private investors did not arise by chance: alas, the media is already receiving a deaf wave of rejection, based on the opinion that such an expensive project does not pay for itself, there is nothing to transport to Sakhalin and back in such a volume, this is a purely political project, and we , we will pay for the great power ambitions of power.
In this connection, many commentators, including officials, try to link this project with the parallel construction of an even more epochal transport transition from Sakhalin to Hokkaido. Now, if they say, the Japanese would show interest in this project and, on their part, would make a transition, then it would immediately become very profitable. And without the Japanese, the crocodile on Sakhalin is not caught, and the coconut doesn't grow there ...
If you try to go deep into this question, you will surely notice: only the freight traffic that is now in demand by Sakhalin appears in justifying the need for construction. The fact that the ports of the island can become excellent transshipment bases in trade with Japan, the USA, Canada, in the supply of cargo to Kamchatka, in providing cargo traffic "to the north", for some reason, they are rarely and reluctantly remembered. Meanwhile, the Sakhalin ports, having received a powerful impetus for development, could quickly increase cargo transshipment to the indicated directions, unloading the ports of Primorye to work in the Chinese, Korean and trade directions with other countries in the south of the Asia-Pacific region. Therefore, we can already say that a possible cargo turnover needs to be considered somewhat more optimistic - if the Vanino-Kholmsk ferry is already suffocating under a load of one million tons of cargo, then after the construction of the bridge we can talk about volumes that are large at times and in order.
Another argument "against" - the construction of access roads. According to "experts", many of whom travel only from Moscow abroad, it will be building in terrible conditions, through the impassable taiga, mountains, permafrost and other inconveniences. This is partly true. But only partly ...
From Selikhino station on BAM, which should be the starting point of the new transport corridor, to the north, almost to the very destination (Lazarev village on the bank of the Nevelsky Strait) is a road. It is clear that she herself is hardly something outstanding, or at least modern. But from the point of view of the construction of railway canvases, this is a good sign - there is a rather well-studied route, access roads, more or less suitable terrain. And the construction of a railway branch is unlikely to become more difficult than, for example, the well-mastered construction of pipelines in permafrost conditions. And we build them with thousands of kilometers, and somehow even questions do not arise.
A separate moment is the decision to build an exclusively railway crossing to Sakhalin. Automobile road, at least two-lane, seems to many unjustified luxury. And in terms of cost, of course, this can be understood. But not everything can probably be measured by economics.
About five hundred thousand people live on Sakhalin. And this, imagine, exactly the same citizens of Russia, like the inhabitants of the Crimea. In no case do I want to make any oppositions - it is very great that Crimeans can now take their cars and go on a trip to Russia. Though to Moscow, at least to Novosibirsk, at least to Sa ... But no, to Sakhalin, unfortunately, will not work - someone regretted the money, having decided that it is much more important to transport coal for export than to provide comfortable living conditions for half a million Russians.
Believe me, they, the residents of Sakhalin, also really want to take the car, fill up the tank and go without ferry or rail traffic to Khabarovsk or Primorye. Moreover, because of the climatic features of the region, only in Primorye they will be able to swim enough in the summer, sunbathe, well, in general, at least two months, but almost in the Crimea. Alas, the climate on the island itself is more complicated, and not every year even the residents of the south of Sakhalin can have a rest on the sea.
And even more importantly, if we are that way, mercantile approach to such projects, the Far Eastern region will remain with us a place to work, but not for the lives of people. And all our appeals, programs like "Far Eastern hectare", etc. will remain a voice crying in the desert - if we cannot make Sakhalin, one of the most climatically favorable regions of the Far East, comfortable for living, then what about Kamchatka or the Magadan region?
And add to this the very Japanese. I am sure that these inquisitive citizens will take the opportunity of a car tour to the Far East of Russia with great enthusiasm.
It is clear that the project has many difficulties and in addition to the above. In particular, the capacity of BAM in the area from Komsomolsk-on-Amur is very low (single track, no matter how strange it sounds in 2018), and Transsib itself still needs electrification in some places. But partly the answer to this question has already been given - in a recent decree of V. V. Putin, infrastructure projects related to the electrification of Transsib and BAM are separately spelled out, and it is highly likely that this problem will be solved in any case, regardless of will build a bridge on about. Sakhalin or not.
As for the cost of the bridge, simply compare the approximately ten billion dollars that will be required for construction, and four hundred and fifty billion gold reserves, a fair amount of which is folded into the American debt trap. Maybe even a slight increase in this amount based on the construction of the road part is not really such a big problem for our state?
In fact, it is quite obvious: for the implementation of this project, we have absolutely everything - money, technology, experience, and specialists. Only will is needed, and it is very likely that, having begun this presidential term with the opening of the Crimean Bridge, Vladimir Putin will finish his opening of the bridge to Sakhalin Island.
But our infrastructure hopes are not the only bridge. Recently, President Nazarbayev of Kazakhstan suggested that Russia build a canal connecting the Caspian Sea to the Black Sea (via Azov).
I must say that this initiative, if it aroused interest in Russia, then seasoned with a fair amount of skepticism. It is not surprising - the project is very large, its usefulness is not obvious to us, it can also cause harm. But for this we are also offered to pay.
At the moment, communication between the Black and Caspian Seas is possible through the Volga-Don Canal. But you need to understand that its carrying capacity is not too large - and the canal itself is outdated, and rivers are not able to pass heavy sea vessels with a draft of up to ten meters and huge dimensions. Moreover, it is clear that the canal itself can be reconstructed, but it is impossible to "reconstruct" the rivers, and the carrying capacity of this transport corridor will never meet the needs of the Caspian states.
And they have great needs. Commodity economies of the region would gladly take advantage of the shipping channel capable of letting huge tankers with crude oil, deadweight of a hundred thousand tons, or bulk carriers of comparable dimensions and volume loaded with ore or coal.
Probably such a channel, had it fallen into our hands from the sky, would have been a pretty good acquisition. But at a cost of twenty billion dollars, building it up even in clubbing is rather expensive. And the payback period raises questions: with all due respect for the raw material capabilities of the Caspian states, they are unlikely to ever be able to provide cargo turnover comparable to that of Suez.
Therefore, while skeptical attitude. Approximately it can be formulated as follows: Nazarbayev needs to, Nazarbayev pays. And we are clever people - we will design, build, and ensure operation.
But for their hard-earned Russia, it is hardly worth getting involved in this project. In any case, until "reinforced concrete" economic and environmental studies of the project appear.
And what worries me the most is the attempt to somehow counterpose this sudden Kazakh proposal to the suffering Sakhalin bridge project that the country needs.
No, let me: we are serious people, we will master, if that, and both projects.
But money, please go ahead - we no longer make gifts.