What are the ministers shy? Steep peak of the Russian economy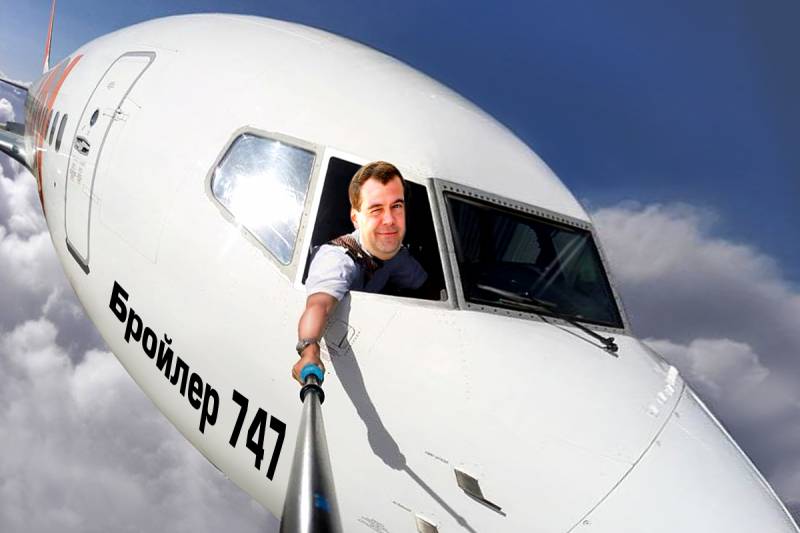 Prologue
According to RIA "
News
", Russian Prime Minister Dmitry Medvedev at the first meeting of the new government noted the" shyness "of the new members of the Cabinet. This happened after the report of the First Deputy Prime Minister, Minister of Finance Anton Siluanov on the budget for 2018 year. Medvedev asked if there were any comments. However, no one answered the head of government.
"Silence. Shy yet. Well, old-timers can say something, no? "The prime minister again asked. But the answer was all the same silence. Apparently, the "old-timers" enrolled in the modest.
President
During his stay at the head of Russia V.V. Putin returned to the country the status of a power to be reckoned with, extinguished the conflict in the Caucasus, returned Crimea to Russia and kept the country from disintegration. These are the results of one of the sociological studies [1].
People
The same source reports that the absolute majority of respondents (98 percent) believe that the state should always "ensure a normal standard of living for honestly spent people in old age".
Other expectations of Russians from Vladimir Vladimirovich are as follows:
More than 40 percent are waiting for fair pay.
36 percent of respondents expressed the need for state support in medical care.
31 percent hopes to receive direct financial assistance from the state.
It is possible that such people's expectations are related to the achievements of the current president listed above. The logic may be that if such impressive successes have been achieved on the international arena, then no less success should be expected in domestic affairs. Therefore, they voted for him so amicably in the elections.
It is also possible that the conducted sociological survey overlooked when forming the survey focus group (4 thousand people) representatives from the number of Russians living below the poverty line 20 million. Otherwise, the results of the survey would have to look a little different.
President (continued)
According to the theory, people once created a state for order and justice in society, as well as ensuring its safe existence. Since our president personifies the state, because it is he who solves all the problems, the theory is confirmed by the designated list of expectations.
In order to implement the electorate's expectations, the president prepared and issued a new May decree "On the national goals and strategic objectives of the development of the Russian Federation for the period up to 2024 of the year"
I note that I did not have confidence in the deep study and scientific calculations of the details of this decree. Why should the army of the poor in Russia shrink exactly twice in 6 years? Why is it impossible to win, for example, for 4 of the year completely? Who counted it and how? If these calculations were made by the new Minister of Science and Higher Education, who headed the scandalous FANO, then it is understandable - after 6 years, the Rosstat will match the numbers to the formulated task.
The ways to solve the problem of poverty also look rather strange - it is supposed to be solved not technologically, although it is stated that the new government is the government of technocrats, but in the old way [2]:
- update the structure of employment (which is "today in many ways ineffective and archaic");
- create new jobs;
- to increase social benefits (pensions, subsidies, etc.);
- to control the growth of real incomes of citizens (???).
And where are the previously declared slogans on creating conditions for investment, a comfortable atmosphere for the development of entrepreneurship, and an increase in labor productivity through the introduction of new, read: digital technologies?
But there was a new declaration: the number of entrepreneurs for the 2024 year should be 25 million people (?) Where does this number come from? Perhaps, Anton Siluanov will "draw" them by rewriting self-employed citizens as entrepreneurs? Anyway, not enough. After all, some polls show that only 2-3 percent of the Russian population are ready to do business. Because in Russia 100-95 is ruined on 97 open businesses. Such conditions are created in the country to conduct honest business.
And someone thought about the question: why do we have from 15 to 20 million people working in the "gray zone", that is, they do not pay income taxes, and their employers do not finance the FIU? Try to guess who ensures the safe conduct of the "gray business"? Estimate how much everyone pays to their patron, and you get at least 1 trillion. rubles per year for these purposes. And then the lieutenant colonel finds billions of cash at home.
Government
At one time, the former plenipotentiary plenipotentiary of Russia to NATO, and then Deputy Prime Minister D. Rogozin, has already become famous on Twitter for his wit. For example, in the light of the sanctions, he suggested that the Americans should get to the ISS via a trampoline. It was fun to read. Only now SpaceX has a reusable Dragon, which can deliver astronauts to the 7 orbit, and Roscosmos is in ruins. And this is despite the fact that their number of staff is almost 11 times less, 4 thousand against 43 thousand at the enterprises of the Center. Khrunichev. And we are still setting ourselves the task of creating new jobs ... Probably, Mr. Rogozin will create a new workplace, and it will go to offset the execution of the new May decree.
And "new" jobs will have to be created due to the increase in the retirement age. Employers will in every possible way get rid of the elderly workers, it is difficult to master new specialties with the introduction (as planned) of new, digital technologies in all sectors of the economy. And where will you order these people after use? After all, to raise pensions, as planned in Kudrinsky, you need to reduce the army of pensioners.
The word "new" has been quoted by me, since these jobs will have little to do with the real economy. There, the temporary deprived pensions, shortening their life expectancy, will receive a symbolic salary, and earn semi-sums before retirement to a good pension. For this pension, you will be free to pay utility bills (it's scary to even imagine their size), buy food for yourself, and sometimes please your grandchildren with modest gifts. Silenok will remain a little, so children are unlikely to receive effective help in the search for grandchildren. Therefore, the item on demographic growth was in question.
Since beginning
In anticipation of the planned "breakthrough," namely, such a term was voiced five times in the president's speech at the announcement of the decree, oil traders quickly increased gasoline prices by 4-5 percent over the last week. This is my personal assessment, based on the price lists of gas stations in St. Petersburg, and it does not coincide with official sources, although they also report such an increase, but by a modest 1-2 percent. It is not difficult to guess that oil traders knew about the upcoming excise tax cut and together raised prices in order to "make more" profit while the government makes publicity for itself.
And why do we need FAS? We pay taxes on its maintenance, in order to be able to use the car freely. And this service, according to its head, only "developed amendments to increase exchange sales of gasoline from 10% to 15% of its production," instead of ensuring stable prices.
Rising fuel prices inevitably lead to higher prices for products and other goods and services that depend on logistics operations.
Already frozen at a low start of the structure of housing and communal services, they were allowed to raise tariffs for their services from July 1. And they are already working on "new" technologies of degreasing the population, trying to push through the State Duma amendments to the laws, according to which tenants will have to pay for these services in advance. For example, D.A. himself is already doing it. Medvedev. But the management company that services the house where our prime minister lives is unlikely to dissolve into fog, as it happens in the communal spaces of our Motherland, and then the residents have been knocking over the thresholds of law enforcement agencies and courts for years in search of money stolen by housing and utilities workers. And the instances to which they apply do little to address the problems of ordinary people.
Business community
All public administration personnel live on taxpayers' money and dividends from state corporations. But here's what entrepreneurs think about the state of the Russian economy - VTsIOM conducted a sociological survey among them on the eve of the St. Petersburg 2018 Economic Forum of the Year [3].
76% of entrepreneurs negatively assessed the current state of the Russian economy.
The proportion of company executives who have declared the ineffectiveness of all government proposals has increased from 64% last year to 69% in 2018.
68% of Russian businessmen called the economic situation in the country problematic or crisis, and 10% consider it catastrophic.
41% of entrepreneurs surveyed says that the government does not have a strategic plan to resume economic growth, 16% has an effective plan, 33% think that there is a plan, but it cannot be considered effective.
According to entrepreneurs, the main factors holding back the current development of their companies are still: the uncertainty of the economic situation, the high level of taxation and declining demand in the domestic market.
As the most priority measures for the resumption of economic growth, business calls the following: improving the level and quality of life of people; tax reform stimulating economic growth; restriction of tariffs for infrastructure and raw material monopolies services and tariff reduction.
There is practically nothing to add to the opinion of the interviewed entrepreneurs. It turns out that they, unlike some members of the government who are at the helm, understand the causes of the crisis situation and the ways out of it. The interests of business representatives, whom we often harshly curse, coincide with the interests of ordinary people. But the interests of the government - for some reason, no. But these entrepreneurs pay taxes, which are kept by officials, create jobs that provide our vital needs. Why conditions of development of entrepreneurial activity worsen?
Sometimes you just want to exclaim: "Enough of all kinds of programs with their budget financing! Just do not interfere with work, we will do everything ourselves. "
Another aspect of the livelihood of officials is the dividends of state corporations. Logically, officials should be interested in the growth of dividends from these structures. Then why did the independent analyst, who dared to publish a critical expert assessment of the two largest Russian state corporations, were quickly dismissed from Sberbank? Allegedly for violation of ethical standards. Or maybe for free-thinking? Or does the pain hurt your eyes?
But not only free experts criticize the situation [3] with the state corporations. State Duma Deputy Dmitry Ionin believes that discontent, for example, of small and medium-sized businesses with high taxes is fair. If we calculate the total tax burden, then for small enterprises it turns out to be significantly higher than for large oligarchic structures and state corporations. "It's a paradox, but the budget burden on big capital is reduced due to tax rate restraint, tax recourse, and the main burden falls on small and medium businesses," said a representative of the lower house of parliament.
Let us ask ourselves a question: what is it that our oligarchs are doing for state benefit? In their hands were infinite natural resources. They organized trade in these resources abroad and in the domestic market. In fact, they are intermediaries, leading parasitic business. Intermediaries who put the profits from the trade in these resources into their pocket, and not the good of the nation.
How many oligarchs do we have from high-tech business that they have created by their labor and intelligence? Why do we live on this earth, but it, with all its wealth, belongs to private individuals? About this, even our foreign enemies have attended, demanding to submit to the UK authorities the sources of origin of money. Of course, there are many questions to these authorities themselves, for example, about runaway oligarchs leading anti-Russian activities. But the question has been raised, and it will have to be answered.
We are continuously being told that everything will be fine, the economy has already been outlined by as much as (!) 2,1 percent. That public sector wages will be raised and pensions too. But then, one after another, powerful blows to people's wallets with rising prices. Do we not see that medicines do not rise in price according to statistical data, but realistically - by 20-30, or even 100 percent per year, gasoline - from 7 to 13 percent, housing and communal services, despite all legal restrictions, to 15 percent . It is curious, but how reasonable is the price of nose drops for 400 rubles per 15 ml? And why are there more and more public accidents, and prices for housing and public utilities services are getting higher?
Food prices are growing, more precisely, on counterfeit products that negatively affect people's health. Already through the central channels they show that former officials in the Volgograd region have cut their land, leased it to scammers who hired foreign migrant workers as greenhouses. But poisonous vegetables are grown in them, the earth and water bodies are dead, even insects have died. What will happen to our children who have tried such "products"? And why is such an ugly phenomenon not eradicated, but only gaining momentum, despite the tasks of the new May decree in the context of health care and demography?
And where is the government, which, according to theory, should ensure order in the country? After all, we are transferring a part of our earned money to the state. And our employer also lists them in the form of various taxes and other non-tax payments. We are already accustomed to pay taxes on time, as well as to pay all kinds of government services without complaint. Why "services"? And why do we collect money via SMS for the treatment of sick children and even for the purchase of locust money, which destroys all types of crops in the south of the country? ..
Remark
In this regard, I offer readers a curious fragment from Vladimir Pozner's book "Farewell to Illusions" [4]. In order to avoid suspicion of sympathy for this person, I inform you that even 2002, I carried him "Times" in my project "Spacing". But now I want to give an illustrative example of how to use taxes where the state directly serves the interests of its citizens (excerpt):
"About two years later I flew from Moscow to New York. Passed passport control, where the border officer congratulated me "on returning home", went to the hotel and found that there was no passport. Either it was stolen, or I dropped it, but the fact remained: the passport was gone.

The next morning, at nine o'clock, I called the Passport Center of New York City. No matter how hard I tried, I could not get a living human voice, and the endless recording did not explain how to proceed. And I went. This center is also located in the lower part of the island and looks as faceless as the one in which I received citizenship. At the entrance stood two guards armed with machine guns. I walked over and started:

- I lost my passport and would like ...

One of them interrupted me:

- Right, left down the corridor, a white window.

In the window sat an African-American of a not too friendly look.

"I lost my passport ..." I said, but she also interrupted:

- White phone on the wall to the right.

In fact, a white telephone hung on the wall, and next to it, behind a transparent plastic protection, was an instruction attached. It began like this:

"1. Pick up the phone.

2. When you hear a dial tone, press the "1" number.

3. Hearing the word "say," clearly and clearly state your question ... "

And so on. Thus, I received a serial number and a time when I should go up to the tenth floor in a hall such a room. The clock was 9: 30 in the morning, and I was set to meet 11: 00. I went out, drank coffee, read a newspaper and returned at five to eleven.

"My number is this and that," I told the guards, who motioned for me to go. I went up to the tenth floor, entered the large hall, part of which consisted of glass windows. I did not have time to sit down, exactly at eleven there was a voice: "Vladimir Pozner, window number three." I went. I was waiting for a man of about fifty, whose face I somehow remembered - maybe because he was amazingly like Chekhov.

- Hello how are you? - he asked.

- So-so.

- What happened?

- Yes, whether I was stolen, or I lost my passport.

- Well, it does not matter. Here is a form for you, fill it out.

I filled out and returned the form to Chekhov.

"Taaaaa," he drawled, "are you a naturalized US citizen?"

I nodded.

- This is a bit more complicated. Do you have a document confirming your citizenship?

- Yes, but he is in Moscow, I do not carry him with me.

- And in vain. You must have at least a photocopy.

- I can call Moscow and ask me to send me a copy to the hotel by fax - I will go, get it and return to you.

"Fine, I'll be waiting," said Chekhov.

I immediately called, rushed to the hotel where the fax was already waiting for me. Grabbing him, he returned to the Passport Center. At half-past twelve I went to window number three and handed a facsimile copy. Chekhov looked at her, shook his head and said:

"Sir, I'm very sorry, but I received an explanation that we need the original."

- But the original is in Moscow. I can not fly there without a passport!

- And do not, sir, do not be nervous. In Washington, there is a second original, which will be sent to us. But this operation will cost you ninety dollars.

I was ready to pay any amount just to get a passport.

"Mr. Posner," said Chekhov, "you will be waited at exactly three o'clock in hall two."

I went outside, ate a hot dog "with all personal belongings" - so they say, when they put on the sausage all the spices and all the sauces plus ketchup and mustard. I washed down this muck with a bottle of Coca-Cola, and at five to three I came to room number two. Exactly in three, a voice rang out:

- Mr. Valdimir Posner! - That's right, Valdimir, not Vladimir.

I went to the window. A rather dark black woman handed me a passport and said:

- Check if everything is correct.

The passport was listed "Vladimir", and not "Valdimir". It was all right.

- Sign in receipt.

I signed. The time was five minutes past three. In less than one working day I received a new passport. Frankly, I was shocked.

I went to another room, went to the window, behind which Chekhov sat, and said:

"Sir, I can't even find the words to thank you for such a job." I am amazed.

Chekhov looked at me and quite seriously, I would even say sternly, answered:

"Sir, you pay taxes for it."
(End of the passage.)
You have already scrolled in your mind that you would have experienced in a similar situation? You have confidence that everything will be organized and well in the economy? You are convinced that after retirement in 60 / 65 years (w / m), you will use our medicine and pharmaceuticals and eat poisoned products and their falsification, without any problems, until 80 years?
Afterword
Thus, the state intends to continue to carry out manual cash flow management, including in the part related to social problems. At the same time, it "in order to avoid the loss of jobs and taxes" (V.V. Volodin, Chairman of the State Duma) will support the oligarchs who came under American sanctions. Above were given the survey data on the expectations of Russians - direct support from the state (31 percentage). It seems that the state "optimized" and personalized the percentage of those awaiting state aid.
Summing up the above, I want to note that the domestic economy reminds me of the plot of "A Cool Peak" from 20 that existed years ago on Calamura television. There, too, the inadequate captain of the aircraft, which is in a steep dive, to the question of a stupid flight attendant entering the cockpit: "Sir! Passengers ask whether we will soon arrive at the airport? "Replied:" Tell me that we will arrive soon, ha-ha-ha! "
PS In fact, the all-powerful Central Bank controls Russia's economy and does not obey anyone in Russia. And the harder the sanctions and the worse our life, the more money he transfers to American assets.
Sources of
Posner V. Farewell to illusions. - M .: AST, Times 2, 2017.
https://lenta.ru/news/2018/05/22/kabmin/
http://www.proprof.ru/stati/careera/pro-zarplatu/mayskie-ukazy-2018
https://aqparat.info/news/2018/05/22/8854055-biznes_sostoyanie_ekonomiki_katastrofich.html