The seventh fleet of the US Navy, which is responsible for the western Pacific Ocean and the eastern Indian Ocean, was filled with the destroyer USS Milius DDG-69 with the upgraded Aegis complex.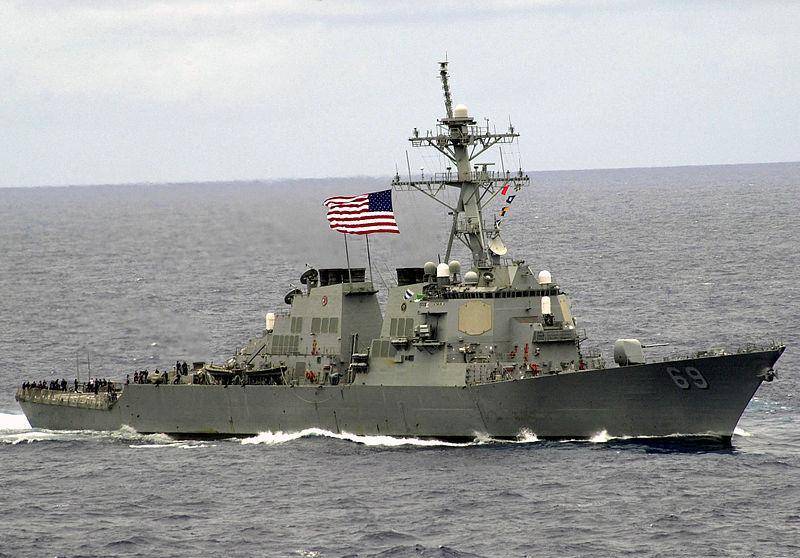 The destroyer made the transition from San Diego to the city of Yokosuka, where the headquarters of the seventh
fleet
USA
As follows from the statement of the command of the Navy:
The deployment of such technologically advanced ships contributes to the fulfillment by the United States of its obligations to ensure security and stability in the Indo-Pacific region.
The destroyer is commanded by a woman - the captain of 2 rank Jennifer Pontius. USS Milius DDG-69 is designed, according to the fleet headquarters, to strengthen the missile and air defense base of the US Navy's 7 base.
The decision to reinforce the 7 fleet with missile defense ships was made under the presidency of Barack Obama, awaiting the strike of the DPRK missiles in Japan. Currently, the USS Chancellorsville missile cruiser, the destroyer of USS Benfold, and the destroyer of the USS Milius, which also joined them, are deployed at the base of the fleet in Yokosuka.
A total of 13 warships are attributed to the base, including the nuclear aircraft carrier USS Ronald Reagan. However, two of them are being repaired after collisions in 2017 with civilian ships at sea: they are the destroyer USS Fitzgerald and the destroyer USS John S. McCain.
The USS "Milius" Missile Destroyer (DDG-69) is the 19 in the first Flight I series of Arleigh Burke class destroyers built for the US Navy. Laid 08 August 1994 of the year. Launched 01 August 1995 of the year. Commissioned on 23 on November 1996 of the year. Before being relocated to Yokosuka, the home port was a naval base in San Diego, California.
Displacement 6630 tons. Length is the longest 153,92 meter, width 20,1 meter, draft 9,3 meter. Maximum speed of the 32 knot. Range 4400 miles on 20 nodes. The crew of the 337 man, including the 23 officer.
Engines: 4 gas turbines, General Electric LM2500-30, with a total horsepower 108000.
Armament:
Tactical strike weapons: 2 launchers of the Aegis system on 29 (bow) and 61 (stern) missile cell, respectively. In various combinations they can arm themselves: Tomahawk Tomahawk КР, RIM-66 SM-2 "Standard-2" SAM, PLUR RUM-139 ASROC.
Artillery: 1 x 1 127 mm. AU Mark 45. Mod. 3 / 54 cal., 600 projectiles.
Anti-aircraft artillery: 2 6-gun 20 mm. FALUKS.
Missile armament: Harpoon 2 x 4 RCC. to the 74 of the RIM-66 SM-2 "Standard-2" missiles.
Anti-submarine weapons: PLUR RUM-139 ASROC.
Mine-torpedo armament: 2 x 3 324 mm. TA Mk. 32 (torpedoes Mk.46 and Mk.50).
Aviation
group: 1 helicopter SH-60 LAMPS, no hangar.