Ukrainian resistance in action: black paint for the "heroes of the ATO"
Ukrainian resistance to the Maidan regime manifested itself in Zaporozhye. City Council deputy Vyacheslav Zaitsev, who calls himself "a veteran of the ATO," said that the unknown once again filled a black paint board installed on the "decommunized" street of the Volunteer Battalions. Previously, the street was called the Allied. By the way, in the city council, the most active even suggested such a variant of the name as "European Union".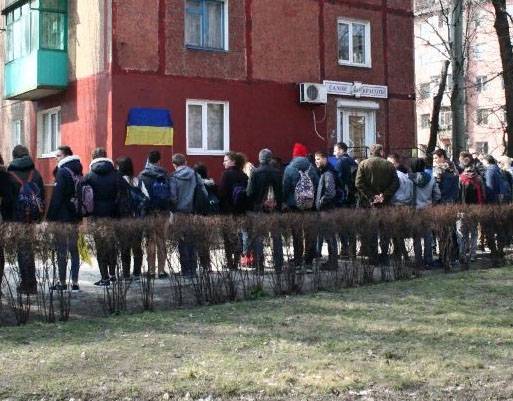 Photos from the event on "decommunization" of the street in Zaporozhye
We are talking about a blackboard that the radicals set in memory of their accomplices from the national battalions - those killed during the civil war in the Donbas. The 11 names of the dead representatives of the so-called "volunteer" battalions are stamped on the board.
Deputy Zaporizhzhya City Council Zaitsev:
Already twice attacked this board, doused with black paint. We have to clean it every time, paint the wall.
The police of Zaporozhye claim that no official complaints about the incident have been received. However, it was added that the police "decided to start the check themselves" after publishing in the local media.
Earlier in Zaporozhye, representatives of the resistance movement filled a board with paint, on which the name of another Ukrainian "ATO warrior" who died in the Donbas, Bogdan Zavada, was stamped. Zavada received the star of the Hero of Ukraine posthumously. He died during the battle under Marinovka in the Shakhtyorsky district.
It should be recalled that earlier representatives of the Ukrainian resistance to the Maidan regime broke several memorial plaques installed in the cities of Western Ukraine in honor of the UPA thugs (Ukrainian Insurgent Army, banned in the Russian Federation), sworn allegiance to Hitler's Germany.
In Kiev, the so-called "ATO veterans" are increasingly confronted with citizens who are clearly not happy with the fact that they are boasting of the killings of civilians in Donbass. After such meetings, some of the "veterans" find themselves in hospital beds and start shouting that they were attacked by "Putin's agents".