Not victims of the exam. Excellent result of Russian schoolchildren at a tournament in the USA
More
news
occasions are missile attacks, statements by Poroshenko or another "peaceful" Washington initiative. This news is about something else - that despite all the reforms that the Russian education system has been testing for strength in recent years, bright heads that can demonstrate outstanding results are not translated.
Thus, the prestigious international competition of research projects of students of the International Science and Engineering Fair was recently completed. This competition is often called the "Little Nobel Prize" or the "Nobel Prize for Schoolchildren." More than a thousand students from dozens of countries around the world took part in the competition, which was held in American Pittsburgh.
The Russian team showed a remarkable result, taking 9 prizes in various scientific nominations. In particular, the excellent results of the Russians were shown in the sections "Chemistry", "Mathematics", "System Software" and "Robotics".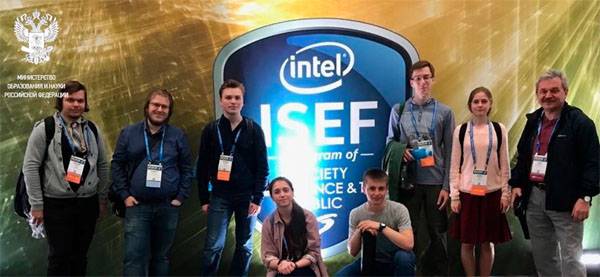 Separate works related to the search for alternative energy sources, the development of the medical component - in particular, in the field of combating cancer.
For an example of what inventions were presented at the competition.
In particular, the Australian team presented a special
Robot
who is trained to clean the windows of skyscrapers. This development took first place in its category. And its developer, Gordon Moore, received the main prize - 75 thousand dollars.
The Russian student of the Lyceum No. XXUMX of the city of Korolev Valeria Lebedeva presented an innovative medical device in the section "Biomedicine Engineering", taking the prize.
Also, Iranian Belousov from Moscow Chemical Lyceum, Alexander Serdyukov from St. Petersburg School No. XXUM, Roman Nikolaenko (NIIU MEPI training school), Daniel Semyonov and Daniil Kazantsev (Yekaterinburg 564 Lyceum), Ilya Zakharov (School No. XXUMX, Moscow), Anna Savelyeva (School # XXUMX, Moscow), Mihran Sharoyan and Pavel Khakimov (Lyceum of Kemerovo), Anastasia Andrianova and Yulia Maslova (Moscow Chemical Lyceum).
Congratulations to our students and we express our gratitude to those teachers with whom they are trained.
The website of the Ministry of Education (now - education)