Again, did not come out ... Ukraine still remains in the CIS
The following fact has been noted in the structures of the executive committee of the Commonwealth of Independent States: the Ukrainian president has recently said that he has ordered the Cabinet to prepare a list of documents on Ukraine's withdrawal from all agreements with the CIS, but the situation in Ukraine is not moving beyond words.
So, in an interview with the newspaper
"News"
Sergey Lebedev, head of the Commonwealth Executive Secretariat, noted that so far there have been no notifications from Ukraine to the CIS executive committee from Kiev.
According to Sergey Lebedev, Poroshenko's statements say only that he is going to "withdraw Ukraine" only from those structures of the CIS that are "not profitable for Ukraine". At the same time, in the opinion of Lebedev, we are not talking about a complete exit.
In this regard, the Executive Committee, as reported, has no choice but to continue inviting Ukrainian representatives to meetings in the format of the Commonwealth of Independent States.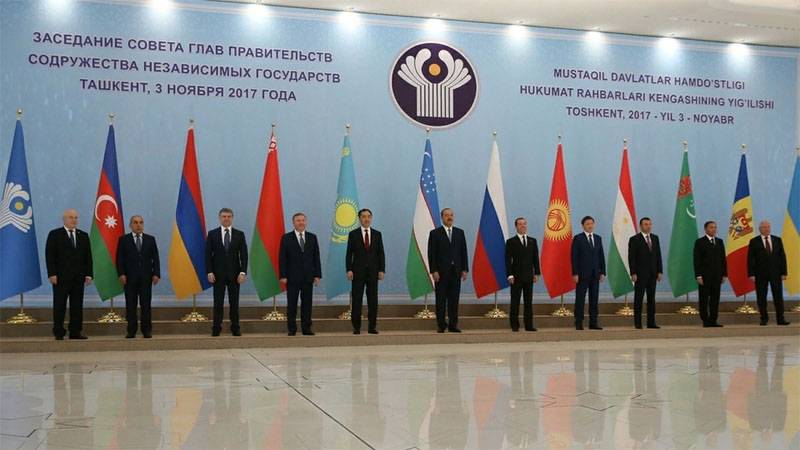 Photos from the CIS summit, where the flag of Ukraine was left without a Ukrainian representative
It turns out that Ukraine, whose president from the podium constantly declares a "soon exit," continues to continue to enjoy preferences within the Commonwealth, primarily economic ones. It is also about preferences in the form of relief for the payment of duties. At the same time, Poroshenko is often asked a question in Ukraine itself about how he continues to actively trade with Russia, taking advantage of all economic preferences, but at the same time announcing that Ukraine is in a state of war with the Russian Federation.
For your information:
De jure, the CIS countries today include the following post-Soviet states: in addition to the Russian Federation, it is also Belarus, Kazakhstan, Armenia, Azerbaijan, Turkmenistan, Moldova, Tajikistan, Kyrgyzstan, Uzbekistan and all the same Ukraine, whose parliament did not initially ratify the main CIS document . However, the long-term lack of ratification does not prevent Kiev from enjoying economic benefits within the Commonwealth.
http://www.globallookpress.com