This year the Caspian
flotilla
will receive the first speed boats "Raptor" (project 03160), report
News
.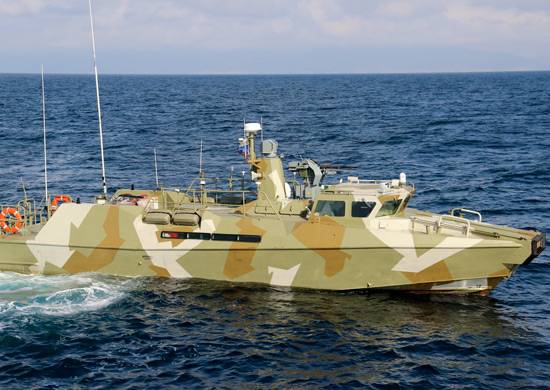 Currently, units of the so-called "coastal" special forces are being formed in the Caspian Sea. Among the tasks of speedboats are the landing and evacuation of the landing force, their fire support; the fight against the "mosquito" fleet of the enemy; search and rescue operations.
"Raptors" can operate at a distance of 100 miles from the base and accelerate to 59 nodes. The patrol version of the boat is designed for 20 paratroopers. It is armed with 2 machine gun "Pecheneg" and combat module "Uprada-Kord" with remote control, which is equipped with a large-caliber machine gun (the type is determined by the customer).
The assault assault version has heavier weapons, including two Uprada-Kord modules with KPVT machine guns of 14,5 mm caliber, as well as automatic grenade launchers.
According to military expert Dmitry Boltenkov, boats "are ideal for amphibious assault and anti-diversion work."
A naval base is being actively developed in Kaspiysk. The experience of recent wars has shown that a great deal is being made on sabotage. Therefore, such an object requires special attention and protection,
said the expert.
"Raptors" will seriously expand the capabilities of the "coastal special forces": they will allow them to move quickly to a given point in order to eliminate the threat that has arisen. Their firepower will effectively support the special forces, he added.
Recall that the headboat of this project was launched and tested in the summer of 2013. Building "Raptors" plant "Pella" in St. Petersburg.