MiG-31K. The Ministry of Defense modernized the carrier of the complex "Dagger"
Hypersonic
aviation
complex "Dagger" has acquired a special carrier. According to the Russian Ministry of Defense, specifically for the complex, the MiG-31 fighter-interceptor was seriously modified, which after modernization received the letter "K" in the name. Also had to retrain pilots, added the military.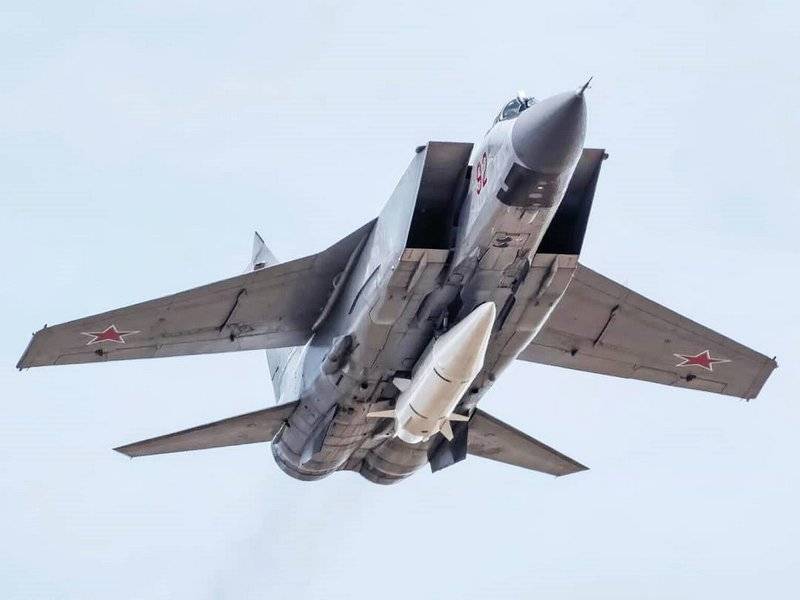 The resulting aircraft is very different from the basic version of the MiG-31. The radar was removed from the aircraft, the amount of fuel was increased for a longer stay in the air, and the cabin was thoroughly reworked, installing a new weapon control system and a new communications equipment for receiving target indication signals.
As stated in the Ministry of Defense, the mass and dimensions of the Dagger rocket led to a change in the center of mass of the aircraft, so the pilots had to be retrained under the new conditions.
The military department also explained that the carrier aircraft is used as the "first stage" in the "Dagger" complex. After receiving the appropriate command, it accelerates and gains altitude, and only after that does it start. Thanks to a special target designation system, the missile mission can be entered directly from the board.
Currently, ten MiG-31Ks are in operational combat operation. They are based in Akhtubinsk (Astrakhan region) and are already on duty.
The Dagger complex is capable of hitting aircraft carriers, destroyers and potential enemy cruisers. The combat part of this complex is a modified Iskander missile.
Ministry of Defense of the Russian Federation