US Air Force Minister: Russian and Chinese missiles will shoot down our aircraft at the beginning of the war
US Secretary of the Air Force Heather Wilson commented on the situation in which the United States could find itself in the event of a military conflict with the Russian Federation and the PRC. The main topic touched upon by Mrs. Minister was the topic of the effectiveness of target designation and combat control aircraft equipped with a JSTARS radar system. According to Wilson, even the newest modifications of these aircraft will be useless if the conflict with Moscow and Beijing does arise.
Modern Russian and Chinese ground-to-air missiles have a range so large that this aircraft will be shot down immediately after the start of the conflict. This is the statement made by an American official.
Why in the United States, at the highest level, they started talking about an aircraft with the mentioned JSTARS system? The fact is that the congress is discussing the question of finding a replacement for the current program. For this, military experts, heads of departments, including Heather Wilson, are invited. In particular, it is proposed to take up a new program (with the allocation of new funds, of course), which involves the management of air operations by collecting information from other aircraft,
drones
, as well as satellites. Heather Wilson considers the transition to the new program expedient, while asking for the allocation of seven billion dollars for it.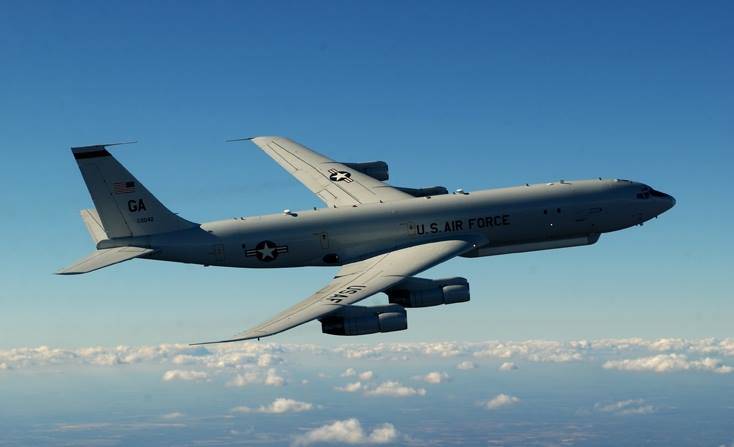 For reference: Boeing E-8 Joint STARS (JSTARS) is made on the basis of a passenger airliner Boeing 707-300. The use of these machines in the US Air Force was launched in 1996 year. They took part in almost all US Air Force operations, including operations in Afghanistan and Syria. The maximum speed of the aircraft is 0,84M, the practical ceiling is 12,8 km, the duration of the patrol is up to 12 h. The detection range is up to 250 km. Area of ​​view - 120 degrees, provided using radar AN / APY-3.