The CAA is preparing for an operation against the radicals in Dar'a. The civilian population is fleeing the Raqqah districts controlled by the Kurds. Reports about it
FAN
with reference to Syrian sources.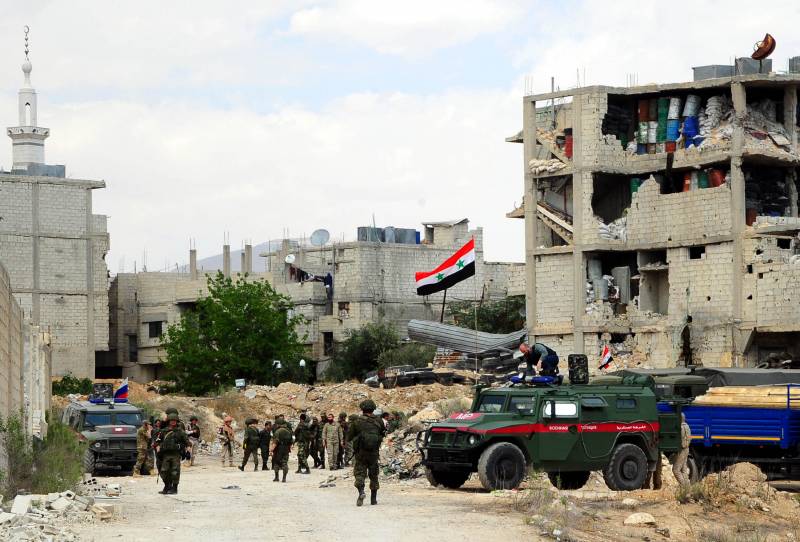 The IG terrorists (a grouping banned in the Russian Federation) were forced to call on the Syrian army to cease fire south of Damascus in order to ponder and discuss the terms of surrender. The command of the CAA went to meet the militants and put forward a condition: to surrender positions in the Yarmuk camp and the Hajar al-Aswad area. In the evening there were reports of the arrival of the first buses to transport terrorists into the desert in eastern Syria. However, this information is not officially confirmed.
The Syrian army conducted artillery shelling of locations of illegal armed groups in the vicinity of the settlements of Khalidia and Al-Zahra in the west of Aleppo province. Details are not reported.
Refugees from the camp of Ar-Rukban, located on the border with Jordan, began to return to their homes in settlements in the northern province of Homs. Recall, government troops took control of the former enclave of militants in the vicinity of the city of Ar-Rastan after members of illegal armed groups had to surrender and left for Idlib. In the liberated territories, work is underway to dismantle rubble and restore infrastructure.
In the west of Dar'a province, fierce battles were fought between the Syrian Free Army (SSA) and IS-controlled formations. Earlier, the SSA announced the start of a large-scale operation in the Yarmuk River basin. Significant losses in the battles are borne by both sides.
"Dzhebhat al-Nusra" (banned in the Russian Federation) attempted to conduct a sabotage attack on the position of government forces near Abu Duhur (Idlib province). The Syrian Arab Army (CAA) repelled the attack. Meanwhile, the Russian Aerospace Forces and the Syrian Air Force continued to strike at the locations of terrorists in the south of the region. In the refugee camp, located on the outskirts of the village of Al-Masraan east of Maaret al-Numan, 150 cases of food poisoning have been reported. Residents were poisoned by food brought to the camp by a local charity. Most of the victims are children.
Civilians in the northeastern part of the Raqqah province, which is under the control of the Syrian Democratic Forces (SDF) and the international coalition, risking their lives, cross the Euphrates to the territory controlled by government forces. Recall that in the areas occupied by Kurds, mass arrests of the civilian population are continuing for further forced mobilization into the ranks of the SDF. The day before, the civil council of Raqqa, consisting of representatives of the SDF, made mandatory the service in the "democratic army" for the male population.
The air forces of the Western coalition attacked the supposed locations of the IG terrorists in the Tal Shaer settlement in the south-east of Hasaka province. The results of the bombing are not reported. Recall that during the recent air raids 17 civilians were killed in the settlements of Hidazh and Al-Hamadi.