The Chinese attack helicopter Harbin Z-19E successfully passed a series of combat tests. The company Harbin Aircraft Manufacturing, part of the corporation AVIC, completed the 40-day combat tests of the Black Tornado, reports "Warspot" with reference to the portal janes.com.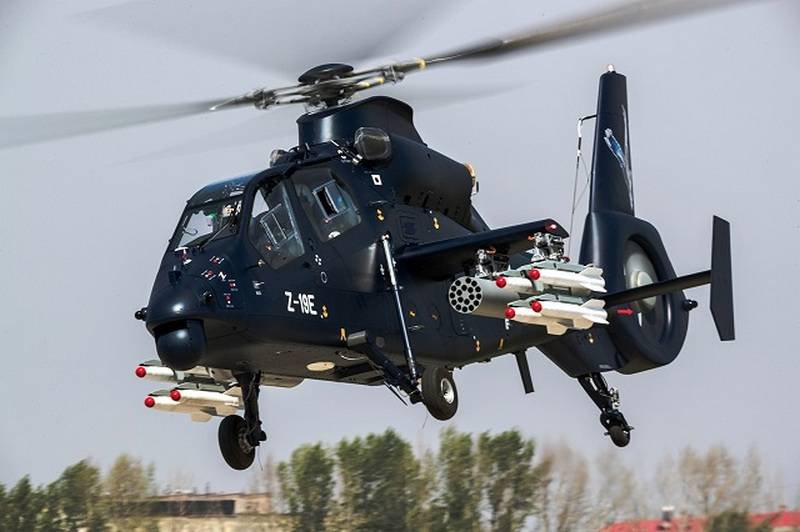 Exactly one year ago, the first flight tests of the Harbin Z-19E combat vehicle, which received the unofficial nickname "Black Tornado", took place in Harbin (Heilongjiang Province) at the Harbin Aircraft Manufacturing plant. Now the helicopter has passed the entire test cycle and is ready for export deliveries. The AVIC Corporation indicates that during testing, the operation of the combat system and all types of weapons, including the automatic gun, was tested, as well as guided and unguided missiles were launched.
Helicopter Harbin Z-19 made its first flight in the 2010 year, and two years later entered service with the Chinese army. The Harbin Z-19E variant appeared in 2015 year and was originally intended for deliveries abroad.
The Z-19E is somewhat lighter than the base model: its maximum take-off weight is 4250 kg versus 4500 kg in the Z-19. Specialists of the company Harbin Aircraft Manufacturing declare that they managed to maximally ease the car without weakening the body armor and combat capabilities, while the Black Tornado surpasses many helicopters in its class in speed and maneuverability.
The helicopter was designed for offensive operations and combat enemy armored vehicles. The Z-19E has a tandem armored crew cabin and an air-to-surface and air-to-air weapon complex. The export version of the helicopter has received a number of improvements, which makes it more silent and safe for piloting in real combat conditions. According to the developers, Z-19E fully complies with all international standards.