Fighting small drones. Part of 2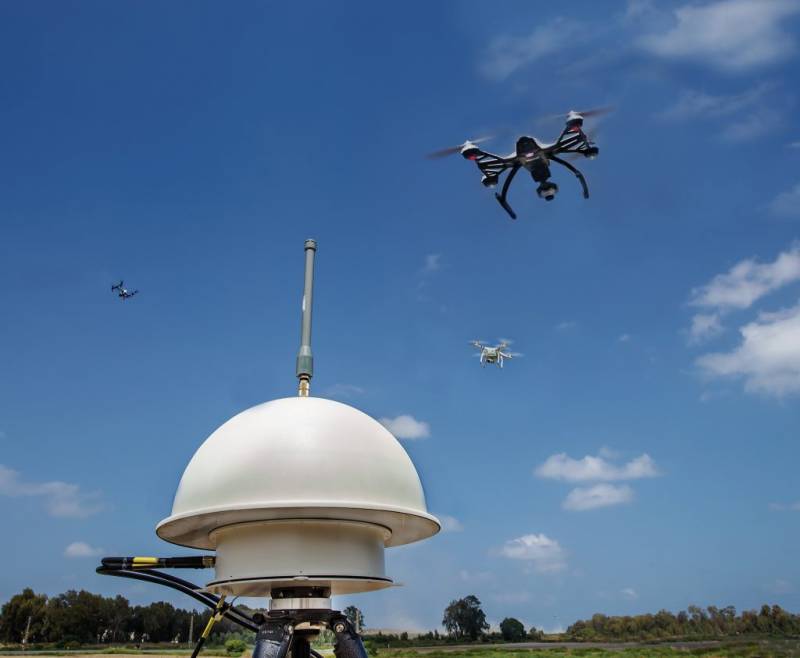 Depending on the customer's wish, ReDrone from Eibst Systems is supplied in two configurations - only a sensor or a sensor plus an executive component
Last year, Rafael announced the addition of a direct-kill component in the form of a laser capable of neutralizing a drone at a distance of 2,5 km; depending on the choice of the customer, the output power varies from 2 to 10 kW. At the maximum distance, the required hold time on the target is about 10 seconds, while the shorter the distance, the less time is needed to hold on the target. This executive component will be available to customers at the end of 2018. At the end of 2016, Elbit Systems introduced the ReDrone system available in different configurations: portable, portable and portable. The Level 1 variant is based solely on a passive electromagnetic detection, identification and location system. 360° field of view system emits only when needed to disrupt operation
drone
. The Level 2 variant, integrated with radar and optoelectronics, increases the range to 3-4 km.
The IMI Systems Red Sky 2 system closes the 360 ° sector due to continuous rotation. It includes a camera with a continuous zoom, an infrared tracking device with a horizontal field of view from 2,2 ° to 27 °, operating in the 3-5 μm range, and a portable X-band radar. The mass of the system is 30 kg, at the same time it can track up to 100 targets, the detection distance of small-sized UAVs is 6 km. The system is complemented by two jamming devices, a broadband omnidirectional high-power system with an output power of 400 W and a separate multi-directional jamming device capable of detecting and creating interference at a distance of 600 meters, as well as a control unit. IMI Systems has announced the sale of "several" Red Sky 2 systems to Thailand in December 2017. A month earlier, IAI-Elta announced a contract worth 39 million dollars for its DroneGuard system, which was first shown in February 2016. It is based on the ELM-2026D, ELM-2026B and ELM-2026BF three-coordinate radars with different detection ranges, respectively 10, 15 and 20 km. The radar is complemented by optocoupler devices and special systems of active electronic suppression, guaranteeing the violation of the flight of the drone.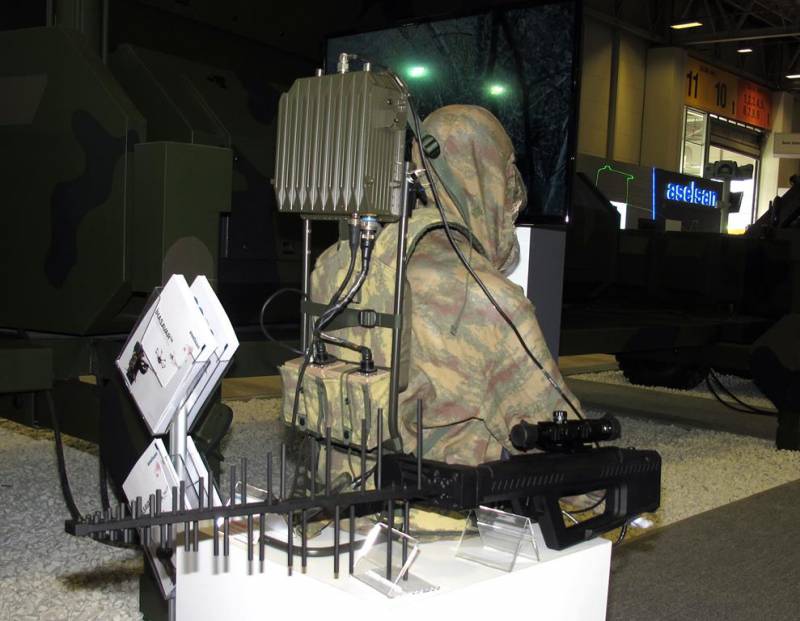 At the IDEF 2017 exhibition, the Turkish company Aselsan presented various anti-thrust systems, among which was a portable gun Ihasavar
Short-range countermeasures
Many companies are engaged in the development and production of short-range anti-thrust systems. The French ITHPP Alcen, for example, developed the Drone Sniper, a 1,9 kg module that mounts under the assault rifle barrel like a grenade launcher. It can drown out GLONASS (L1) signals, Wi-Fi 2,4 and 5.8 GHz frequencies, the total radiated power is 5 W. A directional antenna ensures effective jamming at a distance from 500 to 1000 meters, the lithium-ion battery provides a working time up to 1,5 hours.
The British company Steel Rock offers its solutions to the NightFighter series. NightFighter Digital uses white noise technology against all targets and features custom multi-band helical and flat panel antenna arrays. The jamming device and battery are housed in a dorsal pack, while the directional antenna is attached to the AR-15 rifle via a rail that the customer can also mount a scope of their choice. The NightFighter Pro system operates on five frequency bands covering most of the operating frequencies
drones
. The output power and directivity for each frequency range can be adjusted separately, the physical dimensions are similar to those of the junior model.
At IDEF 2017, Aselsan unveiled its Ihasavar radio frequency jamming system with a radio frequency output of 50 W, operating in two 400-3000 MHz and 5700-5900 MHz bands. The system, equipped with a directional antenna with a high directional ratio, can operate from a lithium-ion battery for up to one and a half hours. In Turkey itself, 25 systems were installed, mainly for military customers, five more systems were supplied by Turkish Airlines to protect Istanbul Ataturk and Sabiha Gokcen airports to fight drones that could disrupt their operations. In the coming months, Aselsan is expecting an order from the Turkish military for another 200-500 system after positive feedback from military tests.
As for the export market, at the end of 2017, Aselsan delivered approximately 50 systems to a Ihasavar customer from the Middle East, who deployed them in his land forces, while the company expects several more contracts for the supply of 2018-10 systems in 20. At IDEF 2017, Aselsan also unveiled its Meerkat pocket radio frequency receiver operating in the 20-6000 MHz band, originally intended as a warning device for special forces. The company from Ankara is developing an algorithm capable of detecting and classifying the radio channels of UAVs, giving the operator an approximate direction (in the form of an hour hand) to the desired drone. This will significantly improve the efficiency of the Meerkat system, while maintaining it portable. Technical demonstrations of Meerkat were successfully held, and Aselsan is currently in the process of certification, hoping that the new system will enter the market by the end of 2018.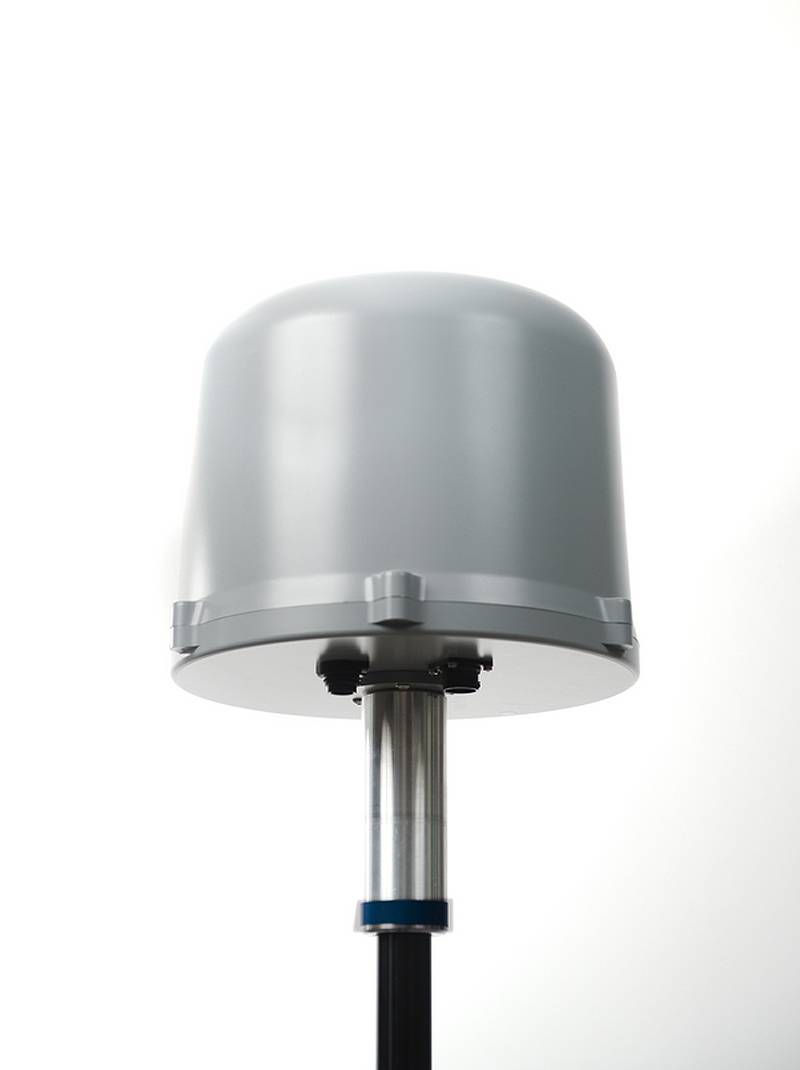 The Danish company MyDefence has developed numerous radio frequency sensors, including the Wolfpack system weighing 5 kg, operating in the frequency range from 70 MHz to 6 GHz
Sensors and actuators
Numerous European companies supply sensors or actuating systems. The French Cerbair offers mobile and stationary sensor kits, the first one is mounted on a retractable mast, and the second one on the infrastructure facility itself. Both systems are built on the same modules: the DW-OP-01 optical sensor with a 92 ° field of view and 100 detection distances at night and 150 meters during the day, the DW-RF-01 radio frequency sensor with a viewing sector in azimuth 90 °, operating in 2,4 and 6,875 GHz bands, single or dual band antennas are also available for the system. The sensors are connected to a computer using the Dronewatch software, which allows you to detect, track and identify all types of civilian drones.
The French company Inpixal has developed the DroneAlarm detection system, which uses optocoupler sensors to issue warnings to existing security systems. German Aaronia also offers its Aartos radio frequency system, which includes a three-coordinate radar Iso-LOG, a portable or stationary spectrum analyzer in real time and a special software extension for it. Depending on the antenna and analyzer, the range varies from 500 meters to 7 km.
The Danish company MyDefence offers a full range of systems, ranging from sensors to actuators. For example, two wearable personal drone approach warning systems are offered: the Wingman 100 for the police and the enhanced Wingman 101 for the special forces. Both systems weighing less than 500 grams operate in the 70 MHz-6 GHz band and are equipped with a semi-directional antenna (an omnidirectional antenna is available, providing a circular viewing sector). The Wingman 100 and 101 models are distinguished by their power sources and operating temperatures. Through continuous scanning, the Wingman system can detect communication channels, giving audible, vibratory or visual warnings.
The watchdog radio frequency system of the same company is suitable for fixed installation. It is capable of detecting signals in the 70 MHz-6 GHz band, the detection distances exceed 2 km in the sector in azimuth 60 °; several sensors can be networked to increase range and accuracy. A small and lightweight 515 gram sensor can be easily integrated into a vehicle. The larger and heavier Wolfpack 5 kg sensor has the same range, operates at the same frequencies, but closes all 360 ° in azimuth. The Danish company is also developing a portable (deployed by one person) Eagle X-band radar with a mass of just 23 kg and a detection range of 1,5 km, capable of rotating on 360 °. In order to integrate its sensors, MyDefence has developed an Iris warning and control system, which is capable of adopting sensors from other manufacturers due to its own software package.
British DroneDefence in 2017 year established its SkyFence system to protect the prison of Guernsey. A typical system operating on 2,4 and 5,8 GHz frequencies consists of six radio frequency receivers with a 60 ° review sector; it can be connected to control units, which in turn are connected to the command center via a local network. This allows for the detection of a drone to switch to the barrier mode to counter the threat. The company also offers the Dynopis EYOOMR directional jamming device - a portable 10 kg system operating at the same frequencies as SkyFence, which can disrupt the transmission of video and satellite communications signals within a radius of one kilometer.
The company also developed a security system for the last frontier Net Gun X1, mainly intended for law enforcement. Setemet throws a square network 3x3 meters to a distance of 5-10 meters or a round network with a radius of 1,5 meters to a distance 15 meters, creating a protective barrier in the first case or grabbing a drone in the second.

SkyFence, developed by the British DroneDefence, was installed around the perimeter of the Guernsey prison to protect against drones
The British Openworks has developed a Skywall system based on projectiles launched from a pneumatic installation, which can be equipped with various means, a grid (SP10), a parachute grid (SP40) and a grid with simultaneous radio-electronic suppression (SP80). Two launchers are available: 100 12 portable Skywall kg, capable of capturing upcoming objects flying at 15 speed m / s at a minimum distance of 10 meters and maximum distance at a horizontal 120 meters and height of 100 meters, and installation mounted on a remotely controlled combat module Skywall 300 with a maximum interception distance of 250 meters and a speed of the intercepted object 50 m / s.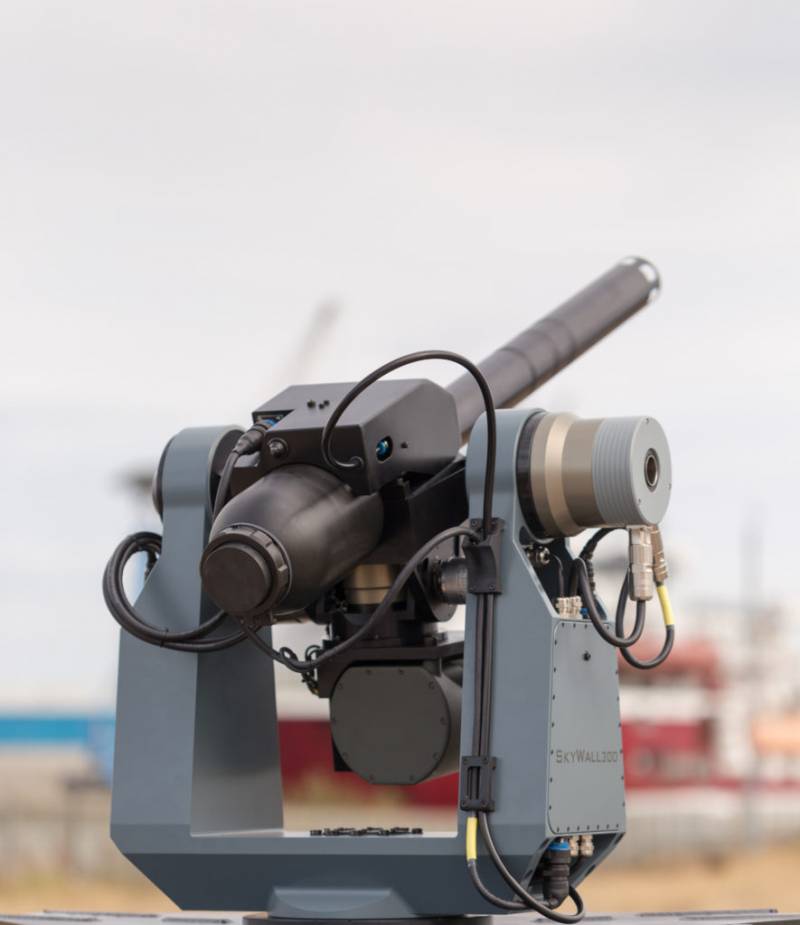 The Skyworks 300 interceptor interception device from Openworks can fire various types of networks. The British company has also developed a portable version of the Skywall 100.
Another British company, Rinicom, offers SkyPatriot optical drones detector with a detection range over 1 km. The system with a diameter of 250 mm and a mass of 5 kg includes a thermal imager 7,5-13,5 μm with a lens 150 mm and a color optical channel with magnification x30. According to Rinicom, the detection distances range from 1 to 8 km, the system allows you to simultaneously detect more than 10 drones (with a minimum size of 5 cm) flying at speeds up to 25 m / s.
Robin Radar Systems, a Netherlands-based company specializing in bird detection radars (the company is a branch of TNO, the Netherlands research organization; its name derives from the TNO project name: Radar Observation of Bird INtensity - ROBIN), developed a sensor specifically for detecting drones. The company hopes that the new Elvira system will be quite inexpensive compared to military radar modifications. The X-band radar with a continuous frequency-modulated signal weighs 82 kg, has a detection range of 3 km drones, their identification range 1,1 km, a viewing sector in azimuth 360 ° and in elevation 10 ° and in azimuth 1 ° and in 3,2 meter .
The Israeli company Controp, for its part, offers the Twister light infrared scanning system with the 360 ° viewing sector and the 1 Hz scanning frequency. The system is transported in two shoulder packs and can be installed on the ground or any infrastructure facility.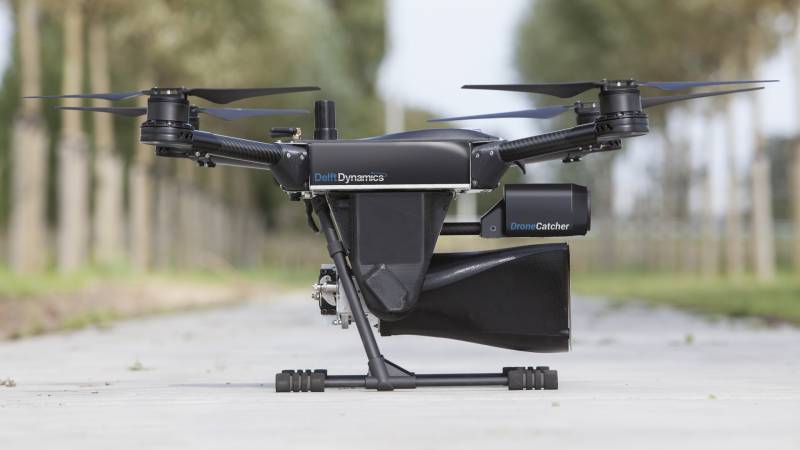 Delft Dynamics has responded to the Dutch needs with its vertical take-off DroneCatcher UAVs, which throws the net toward an approaching drone, capturing it and forcing it to land.
Dutch DroneCatcher Solution
The Dutch company Delft Dynamics, with the assistance of the Ministry of Security and the national police, has developed the DroneCatcher system. The system is based on a multicopter, armed with a mechanically ejected compact network. When an object is identified by a ground-based sensor, the DroneCatcher flies in its direction with a maximum speed of 20 m / s, and when approaching, onboard sensors allow the network to capture the target. Then the intruder drone is captured by the network and is tied onto the leash by DroneCatcher himself, and if it is too heavy to carry, it is dropped with a parachute. The system weighs 6 kg, the flight duration is 30 minutes, the ejection range of the 20 network meters.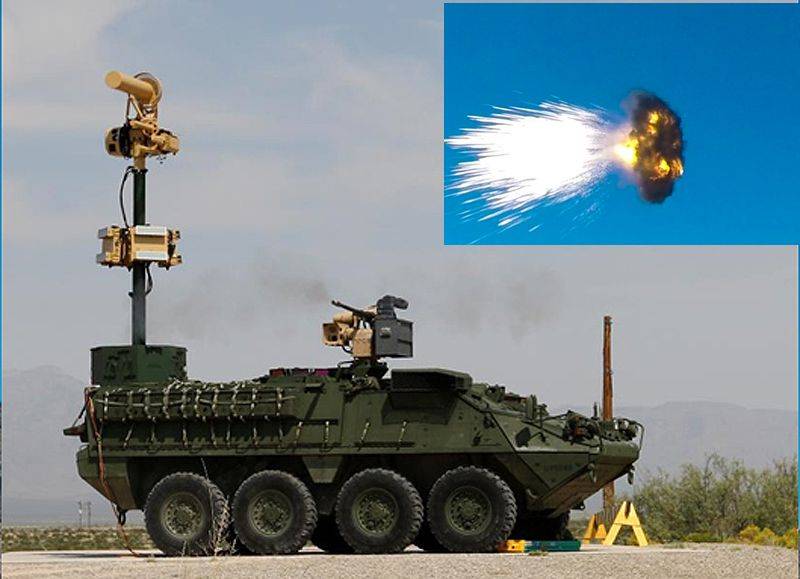 In January, 2018, the company Orbital ATK announced the successful testing of air explosive ordnance against drones. Drones fired from 30-mm gun HM914 Bushmaster Chain Gun mounted on an armored vehicle Stryker
Worldwide
Around the world, many protivodronovy solutions were developed. For example, the DARPA Advanced Defense Studies Directorate recently published a request for information on "innovative, flexible, mobile defense systems ... that could be deployed over the next three to four years and were able to grow rapidly, keeping up with threats and tactical requirements." Numerous applications have been filed in response to this request. Among them, the Silent Archer system from SRC Inc, consisting of components such as radar (AM / TPQ-50, AN / TPQ-49, R1400 or Sky Chaser), the REP system (Saber Fury, SRC5986A or others), radio direction finder and optron set
When equipped with a SkyChaser radar system can be used while driving. Among the short-range systems, it is also worth noting 2,25 kg radio hill jammer Dronebuster, IXI Technology's Dronekiller anti-rifle (photo below), and Battelle's other DroneDefender portable anti-rifle and others.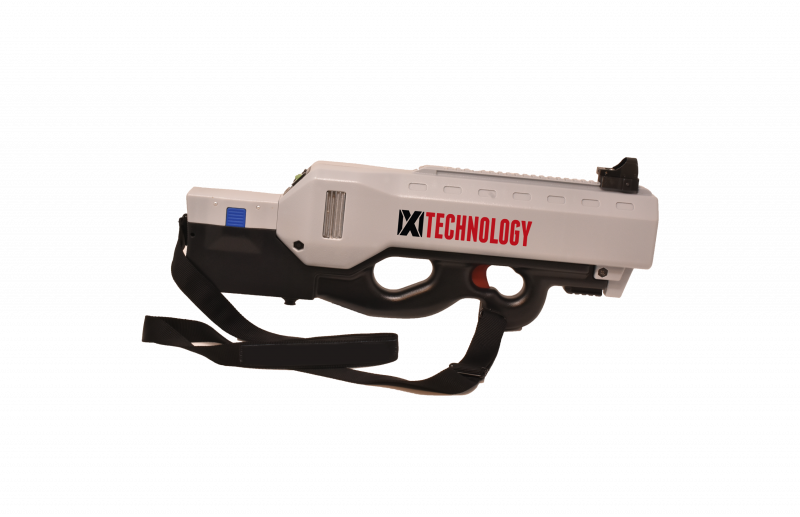 As for direct defeat systems, Orbital ATK was noted here, demonstrating the effectiveness of its programmable air-launched munitions in neutralizing drones in tactical scenarios. As for sensors, Northrop Grumman developed the Mobile Application for UAS Identification Mobile Acoustic Application (MAUI), which works on Android mobile phones and uses a telephone microphone to detect drones weighing less than 9 kg, flying lower than 400 meters and slower than 185 km / h
Dedrone has developed a RF-100 passive network sensor for detecting radio frequencies and Wi-Fi signals with a mass of just 3,1 kg. It guarantees passive detection and classification of objects at a distance of 1 km. Another radio frequency system, Vector Artemis, controls frequencies with an automatic spectrum analyzer and Hunter's proprietary algorithm that identifies potential targets. With a mass of 4,5 kg, it has a radius of detection of 1 km and an interception range of 800 meters and is capable of intercepting up to five drones simultaneously. The American company CACI International has developed its SkyTraeker passive radio frequency system for detecting UAVs. designed to protect airports, critical infrastructure or major events.
AscentVision's CM202U optoelectronic system includes a mid-wave IR sensor with x20 optical zoom and a video camera with x20 optical zoom, which guarantees the detection of drones at a distance of almost 5 km during the day and 2 km at night, and the identification distances are respectively 1 km and 380 meters. The system weighs less than 6 kg, the operator can simultaneously track up to 200 static or moving targets.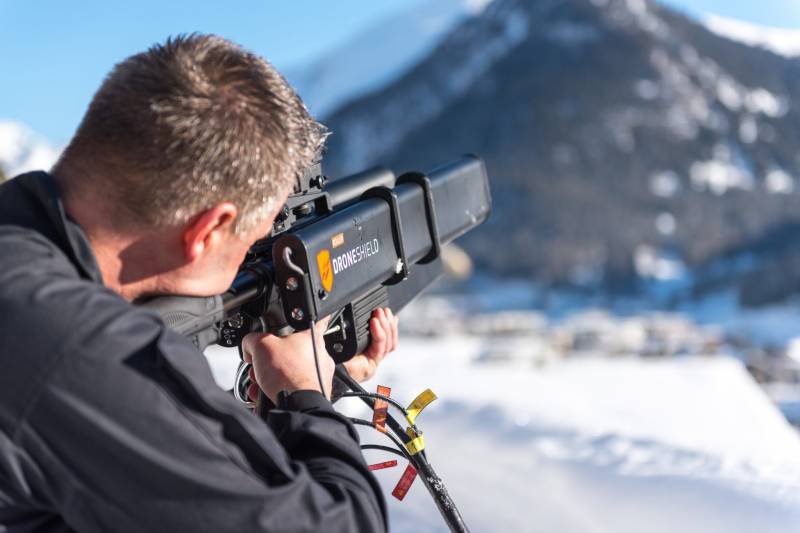 The Australian company DroneShield has in its portfolio various systems, including the DroneGun anti-thrust gun, which is actively offered in various countries, including European
The Australian company DroneShield offers solutions of both medium and short range. DroneSentry is a set of sensors consisting of a main sensor-radar, RadarZero (the size of a book, first introduced in February 2017 of the year) or RadarOne, and / or RfOne radio frequency system, WideAlert acoustic sensor, DroneHpt thermal imager or DroneOpt optical system. The kit also includes the DroneCannon electronic jamming system, disrupting the operation of radio channels and satellite communications. Without REB components, the system is known by the nickname DroneSentinel. The newest DroneGun Tactical anti-rifle, introduced in February 2018, weighs 6,8 kg. It is able to jam radio and satellite signals at 433 MHz, 915 MHz, 2,4 GHz and 5,8 GHz at distances up to 1 km. Option Mk II, consisting of a gun and a knapsack, is able to jam only higher frequencies, but at a distance of 2 km.
DroneShield systems are already in use in the Middle East, as well as in one of the NATO countries, where the Mk II variant is used by special forces. The company is engaged in executing contracts for many countries, including the United States, United Kingdom, Australia, France, South Korea and Spain. In February 2018, the Australian state of Queensland police announced that DroneGun would be used to guard the facilities of the XXI Commonwealth Games.
China is also becoming a major player in the field of anti-thrust systems. At the Milipol 2017 exhibition, Beijing SZMID presented the Drone Zoro short-range and medium-action system in the Defender-SZ01 Pro and DZ-DG01 Pro versions. NovaSky offers its jamming systems, the portable SC-J1000M and the fixed SC-J1000, as well as the passive radio frequency system for detecting and locating drones.
Based on site materials
www.nationaldefensemagazine.org
www.uasmagazine.com
www.rheinmetall.com
www.marketforecast.com
www.skysec.ch
www.blighter.com
www.hensoldt.net
www.diehl.com
www.idscorporation.com
www.leonardocompany.com
www.rafael.co.il
www.imisystems.com
www.aselsan.com.tr
www.mydefence.dk
www.dronedefence.co.uk
openworksengineering.com
www.orbitalatk.com
www.delftdynamics.nl
www.darpa.mil
www.srcinc.com
www.droneshield.com
www.uav-defender.com
www.novasky.cn
pinterest.com
dronelife.com