On Saturday, the floating nuclear power unit (FBI) "Akademik Lomonosov" arrived from the Baltic Shipyard and stood at the quay wall in Murmansk to load with nuclear fuel.
The unit was delivered to the berth of the FSUE "Atomflot", where the connection of the onshore power systems will take place and work on painting the ship will begin. In the future, at the same place, nuclear fuel will be loaded and the reactor will be physically commissioned.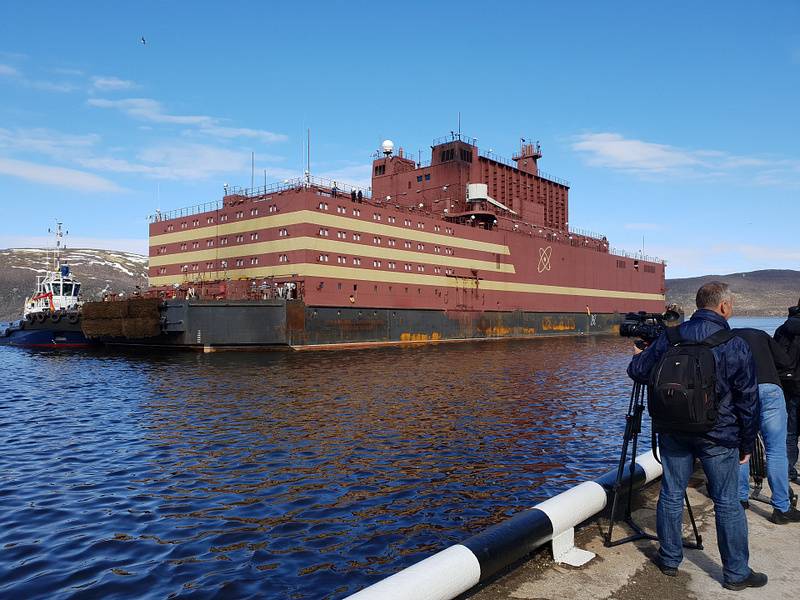 This is not the final point in the launch of this project, but the exit to the finish line. At the request of our foreign partners, we towed a nuclear power unit without nuclear fuel on board to Murmansk and here we will launch this unique, unique in the world mobile nuclear power unit project
- said at the ceremony, the head of the concern "Rosatom" Alexey Likhachev, reports RIA
News
.
The next important stage will be the relocation of the loaded PEB from Murmansk to Chukotka, to the seaport of Pevek, where the PEB will be connected to the coastal infrastructure.
The power unit will become the main part of the world's first floating nuclear thermal power plant (FNPP) and will provide the Chukotka Autonomous Okrug with electricity, thereby replacing the capacities of the technologically outdated Bilibino NPP and the Chaunskaya CHPP.
The floating power unit (FEP) "Akademik Lomonosov" of the 20870 project is the head project of a series of mobile transportable power units of low power. It is intended to work as part of a floating nuclear power plant (FNPP) and represents a new class of energy sources based on Russian nuclear shipbuilding technologies.
The station is equipped with two KLT-40С reactor installations, which are capable of generating electrical and thermal energy in a nominal operating mode, which is enough to maintain the life of a city with a population of about 100 thousand people.
FNPP has been designed with a large safety margin that exceeds all possible threats and makes nuclear reactors invulnerable to tsunamis and other natural disasters. In addition, nuclear processes on a floating power unit meet all the requirements of the IAEA and do not pose a threat to the environment.