With the approach of the World Cup, Russia receives a lot of information about the preparation of a new military escalation in the Donbas by Bandera Ukraine. Troops, heavy weapons are being drawn to the front line, the remaining Kiev remains in preparation for the assault
aviation
... American
drones
make reconnaissance flights near the borders of Russia.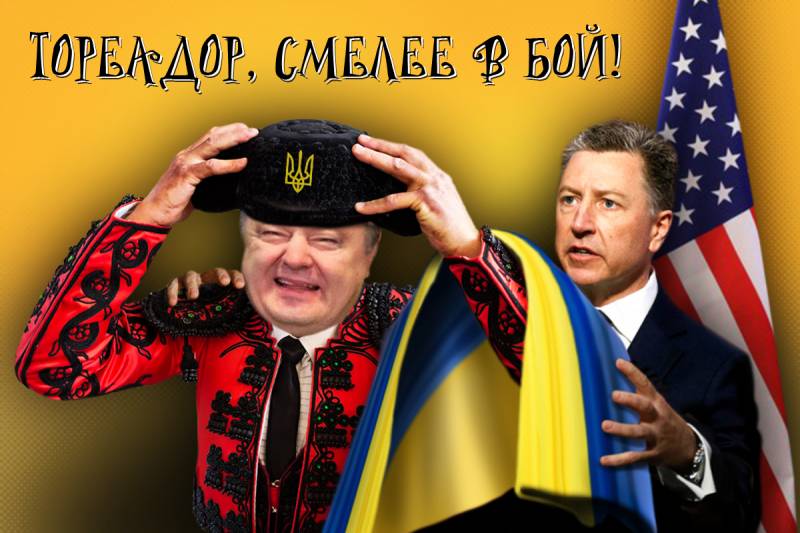 Kiev has strategic reasons for this: a large-scale war in the Donbass could disrupt the construction of the Nord Stream-2 gas pipeline, and there are no other tools to ruin this project, how to provoke a crisis between Russia and Europe. However, there will be no "football war", and not even because official Washington and Berlin do not advise doing this Poroshenko. And the "cynical Bandera" itself, this Poroshenko's self-determination, can guess that such a war could thwart not only the not yet built SP-2, but also the still working Ukrainian gas transit.
The recent visit of the Minister of the Ministry of Internal Affairs and the chief of the Nazi battalion "Azov" Avakov to Washington, perhaps the most significant in recent years, is indicative: he was not the protocol officer, no one considered how long it lasted. Wess Mitchell, the new Secretary of State Secretary of State Mike Pompeo, recommended Avakov a strategy of "small steps" in the Donbas, which contrasts sharply with statements made by individual "ministers in the occupied territories", allegedly by OOS after the ATO are ready to clean Donbas in two weeks. Avakov himself said in America about possible "catastrophic losses of the Armed Forces of Ukraine", which was so uncharacteristic for him, but today he is more silent in general.
Only US special representative Kurt Volker is trying to stir up a war, for which, it seems, he deliberately comes to Ukraine and publicly makes inflammatory statements, such as the fact that Russia has committed "direct aggression in Ukraine", but will not go further than that price. " In fact, Poroshenko promises protection in the event of a "Russian attack" in case of escalation of tensions in the Donbas.
But, we note, Volker makes personal statements, while relying on the Javelins just delivered to Banderovites, and apparently, non-publicly gives assurances from the neocon "war party" in Washington. As an experienced demagogue, Volker creates himself and an alibi, speaks of a "prolonged freezing of the conflict" in the Donbas, so as not to be accused of initiating an escalation. Given his inflammatory statements, a "long freeze" may be a dilemma put before Poroshenko: either now or never.
Official Washington and the State Department do not mention Volcker, an employee disgracefully, on Twitter, Trump's Secretary of State Rex Tillerson dismissed by Trump, and the faithful associate of senator John McCain, maybe even his successor in the McCain Democracy Foundation. Moscow indirectly mentioned Volcker: Dmitry Peskov announced a pause in negotiations with the West over Ukraine - this is the Moscow resignation of the Volcker from the Volker-Surkov commission.
The fact is that Moscow does not want to come to war, as before, when it was limited to artillery slaps Bandera in 2015 and 2016. There were plenty of reasons for Moscow to collapse on Kiev, but Moscow is dragging on time, even when Minsk tires broke. The FIFA World Cup in Russia may be a pretext for Moscow and further troll Bandera with their disdain.
What are the reasons for Moscow not to come to war with Bandera? Only Vladimir Putin and his General Staff know about this for certain. Perhaps, the incompleteness of the Syrian campaign, perhaps for other important reasons, for example, in anticipation of the entry into the army of the newest weapons presented in Putin's March 1 speech. Because it is clear: the resumption of a large-scale war in the Donbass and in general in Ukraine will lead to a serious confrontation with the United States, and you need to be well prepared for this.
There are still unforeseen circumstances, force majeure, so they are unforeseen because they are not visible today, and what they lead to is impossible to say. A volcano or a new Trumpian scandal in the United States may explode, a "Nazi-palace" coup in Kiev may occur ... Russia is much more stable in this regard, so there's no need to rush the United States into hell.
One thing can be said: wars such as those in the Donbas do not flare up on such trifles as the football world championship: issues of war and peace are much more important. Championship can be a reason, information cover, but not the reason. There will be no war until Russia comes to war. Russia is a military superpower, and it can choose when to fight with limitrofs, and when to limit to flogging. Another thing is the confrontation of Russia with the United States, the military superpower.
While in the USA the elite split between Trump and the McCain neocons, the official Washington is also unprofitable to have a serious confrontation with Russia, in the absence of a consolidated rear, and only adventurers-demagogues like Walker are trying to blow up the situation.
By the way, a similar situation developed in Saakashvili before the attack on South Ossetia, then he also received mutually exclusive signals from Washington: official Washington was silent, but how would solid emissaries from Washington incite: come on, Miho, attack you in a decisive moment, the West will support you. This is reported by reputable independent analysts. But Poroshenko Saakashvili expelled from the country ...