Will not blow up ... Poroshenko: On the Crimean bridge Russians will retreat from the peninsula
President of Ukraine Petro Poroshenko decided once again to comment on the opening of a bridge across the Kerch Strait by Russia. During the event, timed to the day marked by Kiev "the struggle for the rights of the Crimean Tatar people," Poroshenko said that Ukraine "will use the bridge built in their own interests."
Poroshenko:
I am sure the aggressor will be responsible for the illegal construction of the Kerch bridge, and for other crimes. And the Russians bridge can be useful as a road for retreat. Ukraine, after the restoration of its sovereignty in the Crimea, uses it (the Kerch Bridge) to communicate with the Kuban, where, by the way, a large number of Ukrainians also live.
At the same time, Poroshenko said that "Russia is ousting Crimean Tatars and ethnic Ukrainians from the Crimean peninsula." I do not Dzhemilev with Chubarov, the president of Ukraine had in mind as "ousted"?
I decided to remember Poroshenko also about Stalin and even about the Last Judgment:
The Stalin Fans Club, which now rules behind the Kremlin wall, restored the policy of pursuing the Crimean Tatars. The "Russian world" in the Crimea has a brightly colored racist anti-Crimean Tatar character.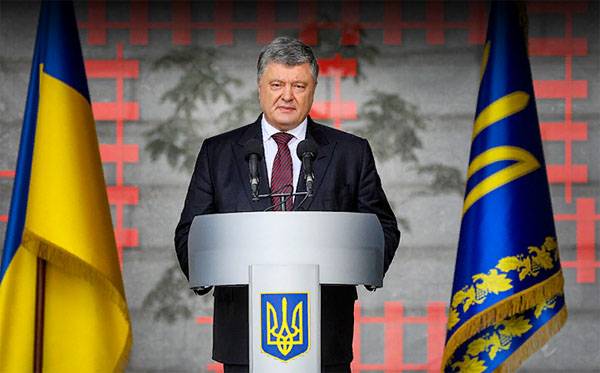 Ethnocide, the ban of the Mejlis, arrests, harassment of conscious Ukrainian and Crimean Tatars, constant searches, intimidation, physical and psychological pressure, the disappearance of people without a trace - all this is the Russian occupation of the Crimea.
However, I am sure that the punishment for illegal actions against the sovereignty and territorial integrity of Ukraine is inevitable for the Russian Federation, as the Last Judgment.
Crimean Tatars, living not only in Crimea, reacted to Poroshenko's speech as another low-profile PR action, recalling that in Ukraine, which "fights for the rights of the Crimean Tatar people," the official status of the Crimean Tatar language has not yet been granted.