The events of recent years in the world clearly allow one to make a disappointing conclusion: international law is a myth! Out of the entire body of international rules and rights, with the full legal impotence of the UN, only one remains, as ancient as the world is the "right of force". And it is quite natural. After all, what is right in essence? This is the observance of certain agreements between certain subjects. And here lies a surprise: something is negotiated only with those whom they cannot destroy. Or force. And if in the world there is only one country that can "bend" anyone, then what and with whom does it agree? And who will punish this country for spitting on previous agreements? They do not agree with the weak, they give orders, and the so-called international law becomes nothing more than a formality, interpreted as you like. But not by anyone. How is the Gopnik? "Sigi is? .. And if I find?" Ask around for international law from the former Yugoslavia, from Libya, Iraq, Syria ... Something tells me that their answer will be obscene even pretexts and articles.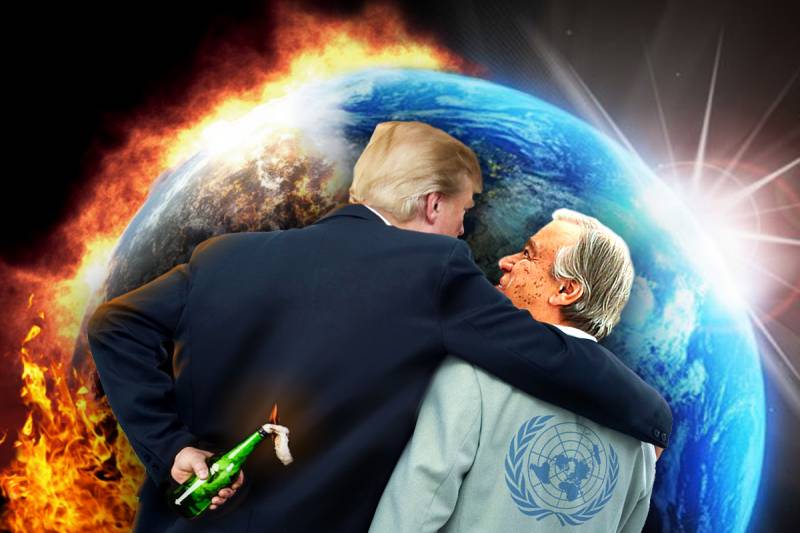 Russia has recently gained strength, but apparently not enough, since it continues to rely on already mythical international law and engage in boltology where it is necessary to bluntly beat. Take the same Syria, on the territory of which there are American troops, which, unlike ours, no one called there, and do what they want. So what? International law, UN, where are you? No answer. Israeli
aviation
openly strikes the territory of Syria and threatens to roll everything into rubble if they return fire. Is this also within the framework of "international law"? Or is it based on the "law of power" without any framework?
Purely speculatively interesting: what will happen if Syria has modern aviation, armored vehicles, artillery from nowhere, and on the basis of that same international law, it will demand to remove American and Turkish troops from its territory? And in case of refusal, artillery and aviation will smash NATO bases into their rubble on their territory, and accidentally survive the coils on the caterpillars together with the covered and covered terrorists with a simultaneous warning that not only that shot, but even sneezing towards Syria will be a reason to smash around, that the United States or NATO on earth, water and air moves. Clear pepper, everyone will know whose equipment and crews are, but formally they will be Syrian. Americans dump or take a chance?
Or Ukraine. With hysterical screams like "Ahhhhh! The Nazis are at our borders !!! Like in 41!" According to the "Azov", "Aydar" and other pravosekam our bomber "unload". The troops do not need to enter. What for? We need it? Just keep track of the social networks and so on, where the Nazi symbols flashed, so after a couple of hours there the bombers are relieved. And the "world community" was warned in advance that it was necessary to write notes of protest on toilet paper, although there was some chance that they would be read.
Jokes jokes, but personally I am worried about the situation. At the beginning of the 30 of the last century, one European country also declared itself exceptional. True, the words they used were other, "true Aryans," "superior race." But this was enough for them to arrange a six-year-old carnage, the number of victims of which from all sides still cannot be counted. Numbers jump from 50 to 170 millions. In fact, who considered the Chinese, Indians, Hungarians, Romanians and other "Untermensch"? Here and the current "heirs of true Aryans" represented by the United States and their vassals (the word allies here clearly does not fit) behave in the territories occupied by them, if it is better, then very little. And they firmly believe that "international law" and "US interests" are one and the same.
At the end of the 80s, we were all offered a large pile of brown substance, which the IMF, the USA, and others called chocolate. And in exchange for this heap, they demanded to abandon sovereignty, industry, basic science, national interests, and other "tasteless porridge." And we, joyful (you can change porridge for chocolate) were led to this divorce. Indeed: "Malshik, throw out the porridge, I'm there tekho chocolate!" And it was here that it turned out that that brown substance was not chocolate at all. A "porridge", though it was tasteless and nasty, but really useful. "Buran", "Spiral", "Mriya", "Skiff" ... How long will it take us to create something like that? At the end of the 80s, there were only 2 on the globe (in words: two!) Countries capable of serially (!) Creating vertical take-off and landing aircraft. Of all the variety of countries, only 5 (USA, UK, France, USSR, Italy) were capable of a FULL cycle of jet engine production. (At present, France and Italy can no longer). All other engines and / or components for them were bought. And what have we traded for? On "Went out, jerk when grown-up uncles talk"? Has Russia strengthened, so that the Anglo-Saxons, scratching their heads, decided: "Send - they will give it in the face, let's negotiate" or only to the level "Wow, how puffy, fun to watch"? Will "international law" be such again or will it remain in quotes?