Military experts said that the destruction of the Crimean Bridge by a military strike from Ukraine is almost impossible. Earlier, one of the American newspapers advised to destroy the bridge as an "outrageous insult" to the authority of Ukraine.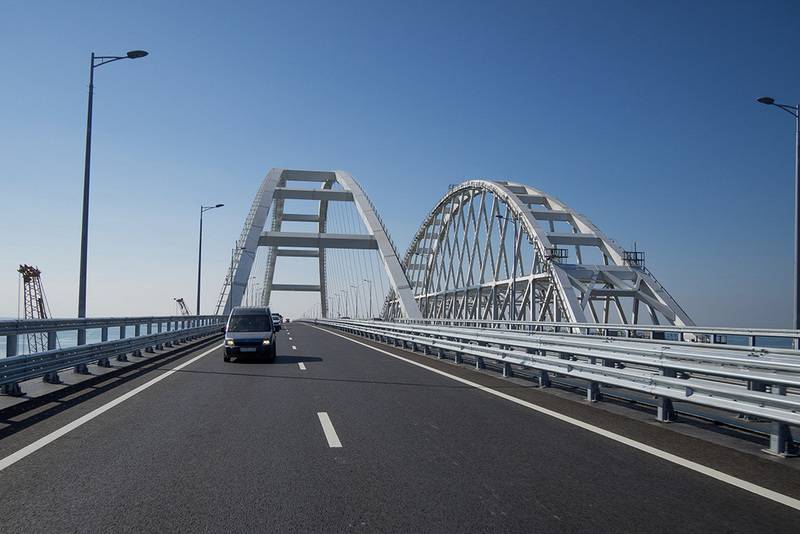 Lieutenant-General, former Deputy Commander-in-Chief of the Russian Air Force for the United Air Defense System of the CIS Member States Aytech Bizhev said that the destruction of the Crimean Bridge by a military strike is unrealistic.
It is guarded from the sea, air. We have fighter units
aviation
, units of anti-aircraft missile forces, for example, S-300 and S-400 systems, which will not allow this to be done. The fourth army of air defense and air force of Rostov-on-Don protects the Crimean bridge as an object of increased importance. The object is multifunctionally protected; it has a command post where all the information flows
- he said.
According to him, even before the construction of the bridge began, the specialists provided for security issues, including in case of provocations during its construction.
But there was no provocation, because it is guarded on all sides: from the air, from the water, from under the water. Unbeknown to the fourth army of the Air Defense and Air Forces of Rostov, not a single aircraft will fly by next to the object - it will be destroyed
- added Bezhev.
The former head of the anti-aircraft missile forces, Sergey Khatilev, noted that the bridge "is covered by the C-400 complex, a maritime group, the entire air defense system of the Crimea can cover and provide for the defense of this bridge."
If we talk about potential preparations for terrorist acts on the Crimean Bridge, I think that special forces and means will be allocated. Since the Americans are talking about this, it means that such options are being considered, and at any time a command can be received to reinforce the bridge
- he said.
According to Khatylev, Russia has enough forces and means to prevent incidents in the area.
Based on the forces and means that are there, we can say with probability more than 80% that this bridge will be preserved even when striking it
- leads "Sight" expert opinion.