The press service of the Ministry of Defense of India reports that the ground version of the Sagarika K-15 rocket (B05) is being created under the Made in India program. Today, the Indian Armed Forces are armed with a Sagarika K-15 ballistic missile submarine. This missile is capable of delivering a nuclear warhead to a distance of no more than 750 km. Sagarika K-15 is part of the nuclear triad of India, but its tests for nuclear submarines have not yet been fully completed. At least, the Indian media write about their "nuclear triad" ...
The main carrier of this type of missile in the Indian Navy is the nuclear submarine INS Arihant ("Fighter of enemies").
The lead submarine of this project was put into service in the 2016 year. On board it is capable of carrying an 12 SLBM Sagarika K-15.
Indian Defense Minister Nirmala Sithamaran, as Indian media say, made it clear that tests of the Sagarik missile were completed, with an eye to continuing the development of the land variant. Ms. Sithamaran reported that all launches were carried out successfully.
On this basis, Indian military experts conclude that the ground version of the K-15 can be brought to mind in the near future.
From the material in the publication
Indian Defense News
:
From the statement of the Minister of Defense, it is clear that the Sagarika did indeed pass a series of secret tests before it was put into operation by the naval
fleet
, and during this crucial period, complete radio silence was maintained.
This adds that the rocket should be upgraded - with an increase in the radius of action. According to some data, the tests made it clear that the claimed range of target destruction in 750 km in reality is at least 90-100 km more than that which was detected during direct tests. It is noted that a relatively low radius of action carries a threat to the Indian Navy, who are ready to use a rocket.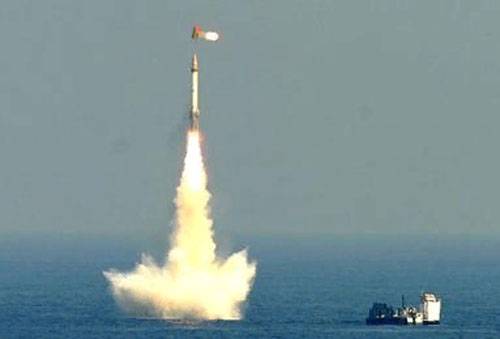 From the material:
India began work on the K-5 rocket, which has a range of 5000 km, and also K-6 with a range of up to 6000 km for the NPS.