In the province of Homs 65 settlements came under the control of the CAA, an observation post of the Turkish armed forces appeared in Jisr ash-Shugur. Reports about it
FAN
with reference to Syrian sources.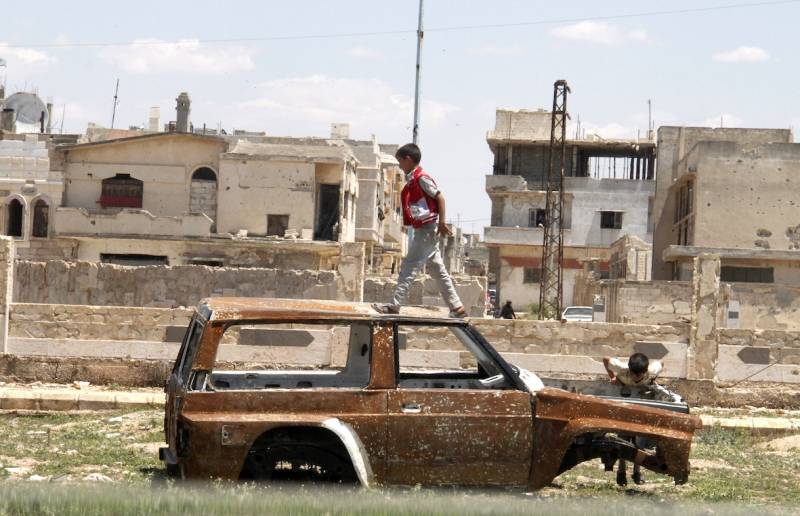 The Syrian Arab Army (CAA) has liberated the Hajar al-Aswad area south of Damascus from the IG (banned in the Russian Federation) terrorists. Under the control of the militants, 70% of the territory of the Yarmuk refugee camp and part of the At-Tadamun quarter remained. A secret warehouse was discovered in East Kalamuna.
weapons
anti-government units. Heavy weapons found in the cache, including
Tanks
.
Rastan boiler in the province of Homs left the last bus with the militants and their families. Under the control of government troops passed 65 settlements. The total area liberated from the rebels territories - 1200 square kilometers. The group "Liva al-Tawhid", part of the Syrian Free Army (SSA), joined the Syrian army. Members of the formation expressed their intention to fight against the Islamists in conjunction with the CAA.
In Manbidge (Aleppo Province), the conflict between the Syrian Democratic Forces (SDF) and the local Arab population is escalating. Kurds continue to massively arrest civilians in the region of military age for their further forced mobilization into the ranks of the "democratic army". Local sources noted that young people who refuse to voluntarily join the SDF fall under arrest. In this case, the detainee is obliged to pay a fine.
In the west of Dar'a province, armed clashes between the Syrian Free Army (FSA) and IS-related formations continue. In firefights in the Yarmuk River Basin, both sides suffer significant losses. Igilovtsy dropped leaflets from drones calling on members of the "free army" to lay down their arms and surrender.
Anadolu news agency reported that the twelfth observation post of the Turkish armed forces was established in Jisr al-Shugur (Idlib province). Meanwhile, the Russian Aerospace Forces and the Syrian Air Force attacked Dzhebhat an-Nusra strongholds (banned in the Russian Federation) near the town of Jisr ash-Shugur. At the same time, in the village of Itabrak, in the same part of the region, there was intense exchange of fire between the Syrian army and the militants.
In the north of the Hama province, combat missions of the Russian Aerospace Forces continued throughout the day. Russian
aviation
struck at the points of deployment of al-Nusra in the vicinity of al-Latamina. Government forces conducted shelling of terrorist strongholds in the area of ​​the city of Az-Zakiyat, as well as in the Hasrai region.