The Lithuanian government is sounding the alarm. The reason was a multiple increase in the number of Ukrainian guest workers who enter the country and then try to stay there by hook or by crook beyond the time allowed by the law. Vice-Chancellor of the Lithuanian government Deividas Matulionis states that if you do not start putting up legislative barriers, the Ukrainian labor force will start to force out Lithuanian citizens from the local labor market. At the same time, Matulionis did not say anything that hundreds of thousands of Lithuanian citizens themselves had long ago become migrant workers, working in Britain, Ireland and other Western European countries.
Matulionis:
The issue of counteraction is extremely relevant due to the fact that in our country there is an increase in the number of Ukrainian workers: builders, drivers. We provided quotas for 34,5 Thousands of foreign workers. And about 20 thousand of them selected by the Ukrainians.
At the same time, the government stressed that it is official. Unofficial data suggest that there are 2,5-3 Ukrainian migrant workers in Lithuania.
Against this background, official Vilnius decided to follow the path of liberalizing legislation with regard to citizens (subjects) of such countries as the USA, Canada, New Zealand, Japan, Australia, and South Korea. Apparently, in Lithuania they seriously believe that builders or drivers from South Korea or the United States, for example, will go to the country for the fee that is offered in Lithuania.
Meanwhile, in Ukraine itself, they are wondering what did ordinary citizens do with visa-free travel with the EU, which Poroshenko represented as their victory?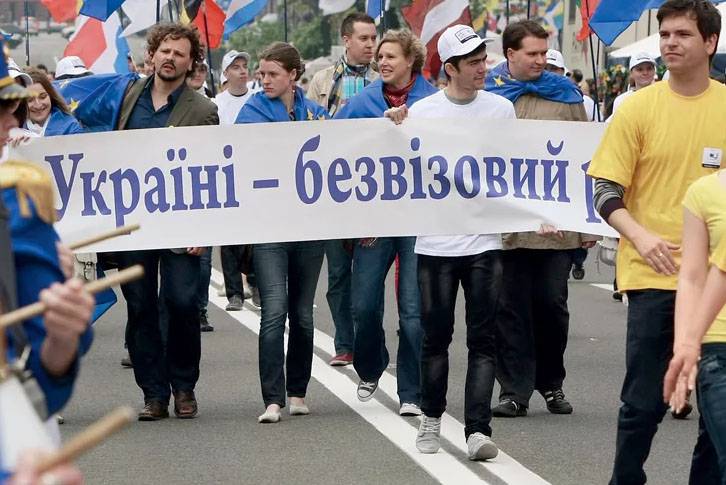 Statistics show that the number of Ukrainian tourists in the EU in the first weeks of visa-free travel did indeed increase, but now it has fallen by almost a third due to a decline in the standard of living of the majority of Ukrainian citizens. But the number of illegal migrant workers has increased. And the authorities already prefer not to recall the "peremog" of visa-free travel in Ukraine.