On the pages of The National Interest magazine, another "expert" comparison of Russian and Western technology appeared. This time, the comparison included the Russian T-14 tank based on the Armata universal tracked platform and the United States МNNXX Abrams main battle tank.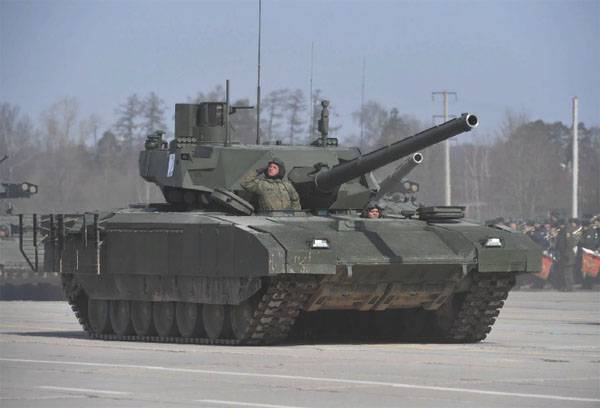 When writing the article, the author, apparently to make it more convincing, modeled some kind of unintended collision near Kaliningrad at the end of the 2020-s of the Russian and American ground forces.
He suggested that by then the main
tanks
US Army will become General Dynamics M1A2 SEP v.4 Abrams - a little more advanced, but still similar to modern American Abrams. Russian troops are likely to represent vehicles similar to the T-72B3M, T-80BVM, T-90M and T-14 Armata tanks.
The promising Russian tank T-14 "Armata" and the main American battle tank M1 Abrams are comparable in their characteristics, according to the author of the study, but the first vehicle is slightly inferior to the second one equipped with sensors.
Most likely, in the end, T-14 and Abrams offer comparable performance - none of them can have an overwhelming advantage over the other. However, the excellent Abrams sensors and probably the excellent training of the US Army and the combat doctrine will give the United States an advantage, albeit a small
- writes an American magazine.
The publication notes that the Russian tank, which has an uninhabited tower, provides better protection for the crew than the American one, and also, due to its lower weight, is more maneuverable. The magazine, referring to Captain Stefan Bühler of the Swiss Association of Officers of Armored Forces, adds that "sensors are a problem for all tanks."
The journal notes that in the conditions of use by countries of nuclear
weapons
the use of tanks is meaningless, although the first collisions are possible with their participation