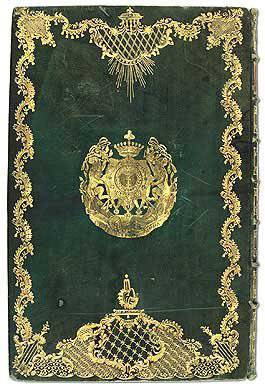 The first military criminal and military procedural code of Russia was the so-called "Military Article", developed during the reign of Peter I and the creation of a regular army by him.
A new systematization of criminal law Peter I introduced 6 May 1715, during the creation of the "Military Article". The code was divided into 24 chapters, in turn, consisting of 209 articles (articles), was part of the Military Regulations as the second part. This regulatory document defined not only the basic principles of criminal responsibility, but also what should be considered a crime, what are the objectives of punishment, the concept of necessary defense and extreme necessity was introduced into military legal practice, a list of aggravating and mitigating circumstances was defined.
Accordingly, the Military Artikul should have considered any socially dangerous act that harmed the state a crime. Three types of crime were identified: accidental, intentional and reckless. Criminal liability was provided only in the case of a deliberate or reckless offense. Three stages of crime were distinguished, the first of which was intent, then an attempted crime followed, and the last stage was considered a completed crime. In some cases, the law provided for punishment directly for intent (for example, it related to state crimes).
The attempted crime was divided into complete and unfinished. Articles provided for punishment for the following types of crimes.
State crimes included: intent to murder or capture the monarch, verbal insult to the sovereign, rebellion, rebellion, treason.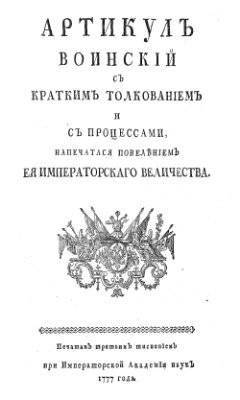 Religious crimes were considered witchcraft, idolatry, blasphemy, refusal to observe church rituals, church rebellion.
Crimes against decency included harboring criminals, keeping a brothel, conferring a false name or nickname for the purpose of harming, singing obscene verses and spreading obscene speech.
Bribery, tax evasion and embezzlement were considered to be an official crime.
The crime of undermining the order of management and the court, called the tearing down and destruction of decrees, the manufacture of fake seals, counterfeiting, fraud, false admission and perjury.
Military crimes considered treason, evasion of service or recruitment, desertion, violation of military discipline.
Crimes against the person included murder, duels, mutilation, slander, beatings, verbal abuse.
The list of crimes against morality included rape, bestiality, sodomy, incestuous connections, polygamy, fornication, prostitution.
Property crimes included theft, robbery, arson, destruction or damage of someone else's property, fraud.
During the reign of Nicholas I, with the advent of the Code of Laws of the Russian Empire, the "Military Article" was a thing of the past.