As it turns out, the Armenian protest after the appointment of Nikolay Pashinyan as Prime Minister does not even think to slow down. It would seem that all the demands of the Armenian cities that rallied on the streets are met, but the protesters, apparently, are ready to find new and new reasons. So, today, Armenian "dissenters" broke into the building of the Yerevan administration and declared that the mayor of the city should resign.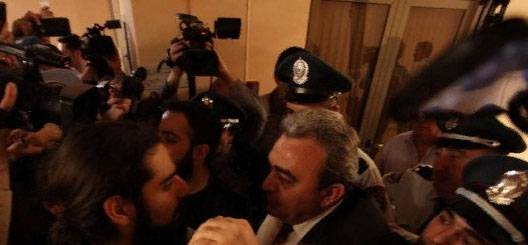 The protesters are inside the metropolitan administration building and are trying to break through directly into the office of Taron Margaryan.
Additional police outfits arrived at the city hall building, which cordoned off the complex and are trying to clear the premises of persons who broke through the security cordons a few hours ago.
In the camp of the opposition, which, after Nikol Pashinyan came to power, considers himself the ruling elite, they said that Taron Margaryan, as a representative of the forces of Serzh Sargsyan, is obliged to leave his post.
It is noteworthy that the reason for the start of the next protest was the plans of the authorities of Yerevan allegedly for cutting down 25 trees. These trees, according to some sources, have gathered to cut down in connection with construction work in the Yerevan park. At the time, protest actions were held in Turkey under the same slogans: the protesters called on Erdogan to resign, as "the cutting of trees in one of the squares was being prepared." Similar slogans appeared in Russia, when the rally in "support for the Khimki Forest" turned into mass protests of the "dissenters."
If the mayor of Yerevan resigns, how many more reasons for the protesters in Armenia will remain in the form of the heads of administrations of the "Sargsyan forces"?