Soviet Su-27 and its modifications are the best fighters of the fourth generation, in service with Russia, China and India, leads
Lenta.ru report
opinion of American expert Sebastien Roblin.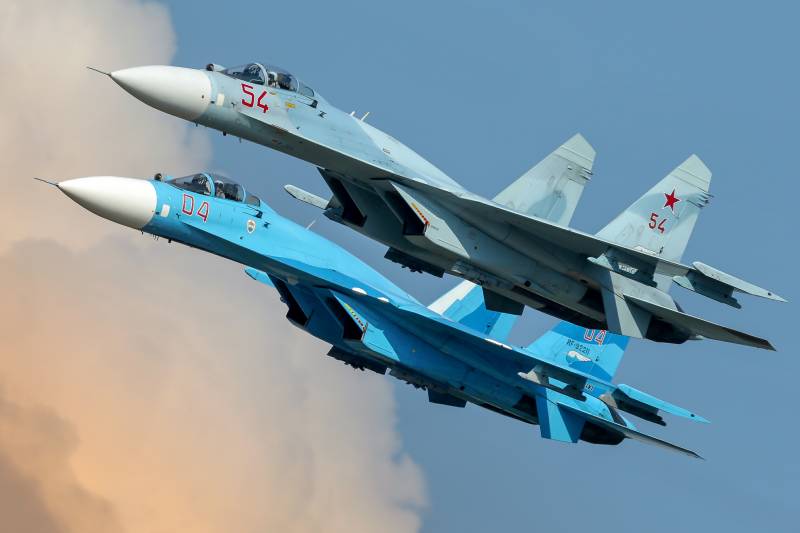 For four decades, the Flanker jets (the name of the Su-27 according to NATO classification) were the best Russian fighters of the fourth generation, as well as the two most populated countries of the world - China and India,
writes roblin.
According to him, Su-27, created as an analogue of the American McDonnell Douglas F-15 Eagle (started operating in the 1976 year), has "long range, high speed, heavy armament, advanced avionics and excellent maneuverability and served as the basis for many other fighter options ".
The expert notes that "the new fighter (it began to be fully used in the 1985 year), which received spacious fuel tanks and a pair of AL-31F engines, developed a speed of more than 2 Mach numbers and had a range of about 1,5 thousands of kilometers".
Separately, he noted the "Doppler radar HNNUMX" Sword "with a range of up to 001 kilometers, an infrared search and tracking system, as well as an air-to-air missile P-130, which received Su-73".
Robin also recalled that Su-27M, Su-27, Su-30, Su-33 and Shenyang J-35 fighters were created based on the Su-11.
After the collapse of the Soviet Union, impoverished Russia sold the Su-27 to China in exchange for food. Then Beijing received a license to produce its own clone Shenyang J-11,
he explained.
Subsequently, according to the expert, Flanker (in the Su-30 version) landed in India, where, in tests, "often proved to be better than fourth-generation American fighters".
Flanker-B (Su-27M), apparently, has a slight advantage over F-15 in armament, defense and close combat,
writes roblin.
He also notes that in the last Flanker (Su-35) differences in the American and Russian military doctrines are clearly visible: "if the former relies on stealth, the latter prefers maneuverability".