It is amazing that John McCain himself announced his demise and did not "invite" US President Donald Trump to the funeral. He even turns his death into a political action!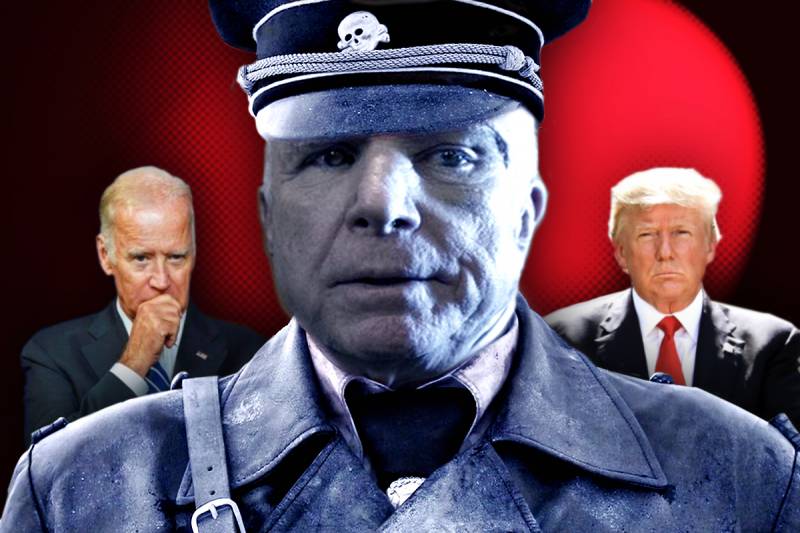 In addition, the outgoing, brain cancer patient, a large neocon and senator from the provincial state of Arizona, John McCain wrote a book goodbye, in which he made a number of statements that should be taken seriously, because McCain along with Vice President Joe Biden, is undoubtedly included in the very "deep state" of America, which Oleg Deripaska inadvertently mentioned, for which RusAl came under strict sanctions.
"If Putin is not made to regret his decision (to intervene in the American elections - Ed.), He will return again and again to the crime scene. The United States should seriously consider responding to those types
weapons
that he used. The West also has powerful cyber capabilities. They should be used to expose the scale of the corruption of his regime or to prevent Putin in another way. "
His anti-Putin Filipika McCain, head of the Color Revolutions Democracy Fund, concludes with a "color" ending: "I don't hate Russia, I wish it the same freedom that Americans have." Add, especially among the Indians. McCain, an experienced demagogue and instigator of democracy and corruption around the world, is always hiding behind some sort of "people", as in Syria, while destroying the country of this people.
In fact, Putin can not be put on a cyber-shock, but for Russia it is possible. That is to say, "for intervening in the American elections" will come to Russia, which is to blame for the fact that the vast majority support its president. Demagogic corruption charges are a standard neocon technique, they glue "corruption" to all their opponents, I remember, Jean-Claude Juncker was glued, Hungarian Prime Minister Orban was glued, and Putin was glued, but not to everyone.
But why such a sharp reaction of the deep-seated power of the United States on the absurd, in general, about "interference with the elections"? This is an open secret: during the election campaign, the machinations of the democratic headquarters of Hillary Clinton and of her were revealed. Who did this is not the point; most likely private whistleblowers, "mud scavengers," such as Julian Assange or Edward Snowden, who do this out of their convictions.
For McCain, it is important that he did not elect his candidate, Hillary Clinton, and political corruption in the United States revealed itself at the top, so that the face of the "deep state" McCain-Bidenov was revealed to the world, it was revealed that American democracy is a fake, honest world media are a fake . For McCain and the neocons, it is important that this objectively played into Russia's hands.
And since the United States is an a priori exceptional country, they cannot admit their mistakes and corruption, then someone should be guilty of this. Julian Assange and others like him are too small to make such claims to them, but Russia is very suitable, especially since this scandal is beneficial to her. It means that she created it, and the evidence of this can always be fabricated, it is the old practice of the most honorable neocon democrats - and the "deep state" began its usual work.
The entire establishment supported McCain-Biden: it was also too much for him to recognize political corruption in the United States, and Hillary Clinton was taken out of the blow, although President Trump promised to put her in jail. At the suggestion of the neocons, a strategy was adopted to attack Trump himself, accusing him of "conspiracy with Putin" and depriving him of political initiative, and attacking Putin for the scandal with Hillary Clinton, accusing him of interfering with the elections in favor of Trump.
We are surprised that in the "Skrypal's case" Russia was unprovenly accused of a chemical (military) attack on "honest" England, but there was a precedent - the "Hillary Clinton case", England just used the strategy that was used in America. But where did this aggressive American strategy come from?
The aphorism is well-known: "The best defense is attack"; for the USA and the West it has long become a leitmotif of their policies. McCains and Bidens do not invent anything here, they are following the beaten track of their predecessors, attacking Trump, Putin, and anyone, no matter what false reason, if it seems to them profitable. As Nikolai Zlobin constantly teaches us in the program of V. Solovyov: "They just defend their national interests."
Even being in strategic defense, losing influence in the world, a share in world GDP, the USA constantly attacks, provokes and wages local wars, seeking to cause unacceptable damage to its opponents in order to seize the initiative. What are they hoping for? On its exclusivity, superiority in technology and, ultimately, superiority in mind, which, after all, created these technologies.
The United States considers itself smarter than other world powers - this is a fact, unpleasant and dangerous, therefore, they believe that strong opponents can be taken wisely - from this comes American arrogance and mentor tone, the official position of "American exclusivity" that causes many associations with racism and fascism.
This is where the strategy is born: even in defense, one can defeat the superior forces of the opponents at the expense of one's mind, inflicting smart painful blows on them, and if one fails to crush, then one can escape from defeat, reduce the matter to a draw. If we proceed from the fact that you can compensate your strength with your mind, then you need to endow this someone with frank stupidity. Let us recall: for centuries, the West has exposed Russia to a stupid backward barbarian and is surprised at its victories and successes, as well as the successes of other "Indians". Dostoevsky noticed it in our liberals and condemned in Smerdyakov: "And well, if only ... a clever nation would have conquered a very stupid one, sir."
However, the "best defense - attack" strategy with "mental excellence" has repeatedly led its supporters to collapse. From Napoleon to Hitler, who imagines himself a genius even in comparison with other Europeans, so he hit first on the "falling West" to defeat this Goliath with his ingenious power, since he revered Russia "for the colossus on feet of clay."
The battle of Kursk, the 75 anniversary of which we celebrate this year, began with a German offensive operation, although Germany, strategically, had to think about defense already. Again, we see the strategy of "best defense - attack", then it accelerated the defeat of the Nazis on the Eastern Front. Today, the United States is attacking around the world, although they should also think about strategic defense ...
The "best defense - attack" strategy of the USA was transferred to big geopolitics when they began to bring down color revolutions only for the triumph of democracy even to America's friendly Middle Eastern governments, from Tunisia to Egypt. Then McCain, in a fit of joy, opened his heart to heart. "I am coming to you, Vladimir," he turned to Putin, apparently hoping to bring the flames of "controlled chaos" from the Middle East to Moscow. Did not inform. Stung by this, finishing his path, he commemorates Putin, reminding his neocons that this fortress was too tough for him.