The SDFs are forcing mobilization in Deir ez-Zor. An offensive operation by Syrian troops continues near Damascus. Homs have already left 19 thousands of militants and their families. Reports about it
FAN
with reference to Syrian sources.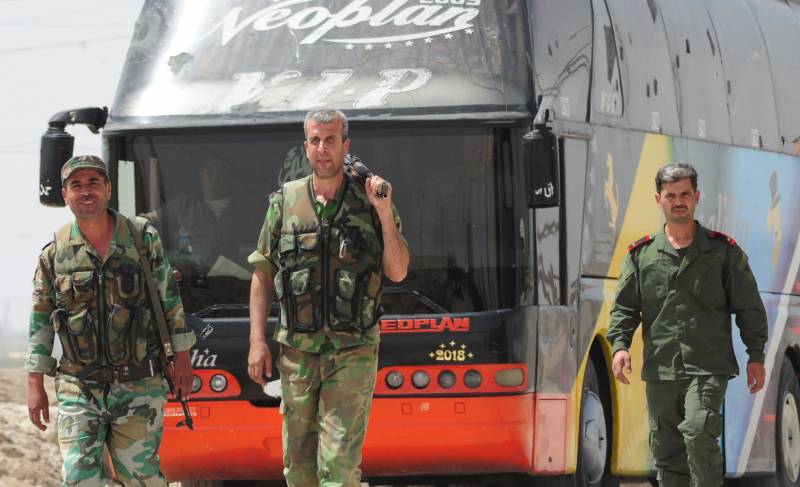 To the south of the Syrian capital, the operation of the Russian Aerospace Forces and the Syrian Arab Army (SAA) against Islamic State terrorists (IS, a grouping is prohibited in the Russian Federation) continued throughout the day. The SAA conducted shelling of Islamist positions in the Hajar al-Aswad region. Under the control of the army of Bashar al-Assad, the roundabout and several administrative buildings passed. Also Russian
aviation
struck at the points of deployment of radicals in the vicinity of the Yarmouk refugee camp. The section of the Damascus - Homs highway 17 km long, which runs along the northern border of Damascus, was re-opened for traffic.
From the vicinity of Ar-Rastan (Homs province), 122 buses left the bus with militants who had surrendered to the SAR army and their families. Since the beginning of the evacuation of the rebels, about 80,000 people have left the province of Homs. In the territories already liberated from opposition groups, the engineering units of the Syrian army began to work. Government forces entered the settlements of Deir Ful, Al-Mukarramiyah, Az-Zafaran and Izz ad-Din.
In the territories occupied by the pro-American democratic forces of Syria (SDF), the province of Deir-ez-Zor was marked by armed clashes between Kurdish troops and ISIS terrorists for 24 hours. In the Khadzhin district, the Kurds shot down an Islamic drone. In the same part of the region, the Western coalition air forces worked. In addition, attacks on igilovtsev positions on the left bank of the Euphrates were inflicted by the Iraqi Air Force. In the Kurdish-controlled areas of the region, mass arrests of the civilian population continue - thus, the SDF replenishes its ranks at the expense of the local population.
The Syrian air force struck several blows at the strongholds of the Islamists in the vicinity of the settlements of Orm al-Kubra and Ariha in the province of Idlib. In turn, the VKS of the Russian Federation attacked the position of "Dzhebhat an-Nusra" (banned in the Russian Federation) near Jisr ash-Shugur.
Russian aviation also attacked the Al-Nusra station in the vicinity of the settlements of Az-Ziyar and Kastun in the north-west of Hama province. Under the cover of military aircraft, the Syrian Arab Army (SAA) conducted artillery shelling of militant positions near the settlements of Az-Zakiyat, Al-Arbain and Kafr Zeta.