The State Duma adopted in the first reading a bill on countering sanctions pressure on Russia, which introduced counter-sanctions against the United States and other countries. It is planned that the State Duma will consider the bill in the second reading already on May 17, so that the law will be passed as a whole on May 22.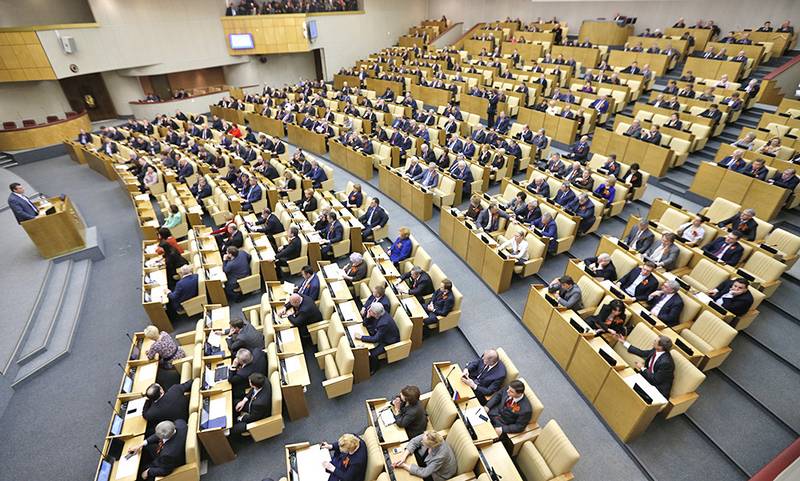 The draft law "On measures of influence (counteraction) on unfriendly actions of the United States and (or) other foreign states" was introduced on April 13 by leaders of all parliamentary factions and State Duma Speaker Vyacheslav Volodin. The initiative was developed as a retaliatory measure to the challenges from "the United States and its officials, expressed in unfriendly and unconstructive actions to impose sanctions on both the Russian Federation as a whole and its citizens and legal entities," the explanatory note says.
The current version of the bill provides the government with the authority to restrict imports of agricultural, alcohol and tobacco products, medicines, rare earth metals from the United States and some foreign countries. In addition, the project allows to suspend cooperation with the United States and American companies in the nuclear power industry, aircraft industry and the creation of rocket engines, as well as to impose a ban on attracting foreign highly qualified specialists.
However, after discussion with experts, business and relevant government agencies, they decided to remove the provisions regarding counter-sanctions in relation to specific products from the draft law and make it a framework. The new version of the document will use a much more general formulation: it will be about banning "or restricting the importation into Russia of products and (or) raw materials whose countries of origin are unfriendly foreign states." In addition, counter-sanctions will not apply to essential goods, including medicines. This was particularly insisted by social activists.
At the same time, the State Duma accepts in the first reading the original wording of the draft law, since this is provided for by the procedure - no amendments are made to the documents before the first reading.