The Indian government is discussing mechanisms for a possible circumvention of US sanctions against Russian defense companies and those who cooperate with these companies. The Indian Cabinet unequivocally makes it clear to Washington that it is in principle not going to refuse military-technical cooperation with Moscow, and at the same time it will act in the format of observance of international law.
In The Economic Times
noted
that the Russian-Indian military-technical cooperation reached the level of 12 billion dollars a year, and to completely abandon such cooperation is to strike at the security of India itself.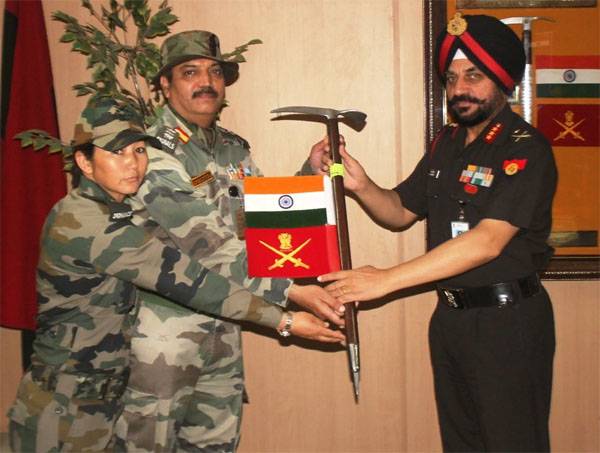 The photo shows the start ceremony of a mountain expedition of the Armed Forces of India, in which 9 female officers will take part for the first time.
At the same time, the publication actually states that India fears a negative US reaction.
The statement of a government official, whose name the Indian media does not name, is given:
There are ways to circumvent the new financial sanctions arising from CAATSA (countering America's opponents through the sanctions law), adopted by the US Congress. We are in contact with the Russian government at several levels in order to develop a roadmap for the continuation of cooperation.
Another high-ranking source is cited:
On the one hand, the US wants India to be their closest strategic partner in the Asia-Pacific region as an influence against China. On the other hand, it threatens our proposed acquisition of C-400 missile defense systems from Russia, as well as frigates, submarines and helicopters.
At the same time, the publication notes that India had to begin military-technical cooperation with the United States, since Russia recently showed a tendency to revise schedules of arms supplies, to increase costs already in the process of contract execution, as well as intractability in terms of technology transfer.
From the material:
But it is equally true that India needs to maintain its huge stock of weapons systems of Russian origin, which could be adversely affected by US sanctions. The government also recognizes that only Russia will help India with modern strategic projects, such as nuclear submarine projects.