The American Corporation "Sierra Nevada" (Sierra Nevada Corporation - SNC) issued a press release, which refers to the work on the creation
drones
capable of performing combat missions as part of a "swarm". It is reported that one of the tasks being solved at the moment is the management of the "swarm"
drones
from the aircraft, which will be outside the zone of detection and destruction by the enemy. So far, drones have been created that can hardly be called miniature.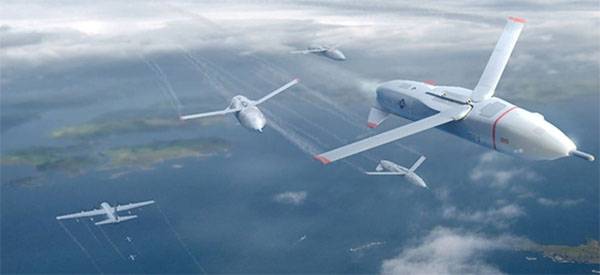 According to the latest data, drones can be fired over a specific terrain using the C-130 Hercules transport aircraft. After completing the mission, the drones will have to assemble at the appointed place and prepare for the new mission within 24 hours. Drones are rated for 20 uses.
It is stated that at the moment the company Dynetics is developing a device to "capture" UAVs. This device should provide docking and undocking of the UAV from (from) the C-130 during the flight.
This entire program in the US is called Gremlins and is intended for various military needs. In particular, we are talking about misleading the enemy's air defense and anti-missile defense systems, which should react to the "swarm" of drones as the "main target". At the same time, drones can provide direct electronic and physical protection of transport workers and bombers, as well as conduct reconnaissance or carry a certain type of ammunition. The creation of several variants of drones in the Gremlins program is under consideration.
The interface and control system of a group of UAVs is being developed at Kutta Technology. The main problem is to create equipment that could synchronize and unsynchronize the work of several UAVs via communication channels when they are in the air and when they perform a specific task.
Gremlins is scheduled to be completed by the end of 2019. It is stated that testing of UAVs in flight mode as part of a group has already been carried out.