The Palestinian Ministry of Health reports the totals of the dead and injured during yesterday's most genuine armed clashes with Israeli soldiers. According to these reports, the dead are 59 people, the injured are 1987, of which 26 are in extremely serious condition. Among the dead were six juveniles who came close to the fence separating the Gaza Strip from the territory of Israel. Several of them were shot, others poisoned by used chemicals.
In Israel, they say that all the dead were either Hamas activists or those who came out to protest for money. Israeli media cite a "price list": 100 dollars were promised to everyone for reaching the rally to the border of Israel, and 500 dollars - if a person was injured. This is substantial money for the Gaza Strip, where about a third of the population lives below the poverty line (according to the most modest estimates).
Several people, as stated, died from the poisoning of gas used by Israel. The Israeli command previously confirmed the fact that tear gas sprayed from drones was used against Palestinian activists.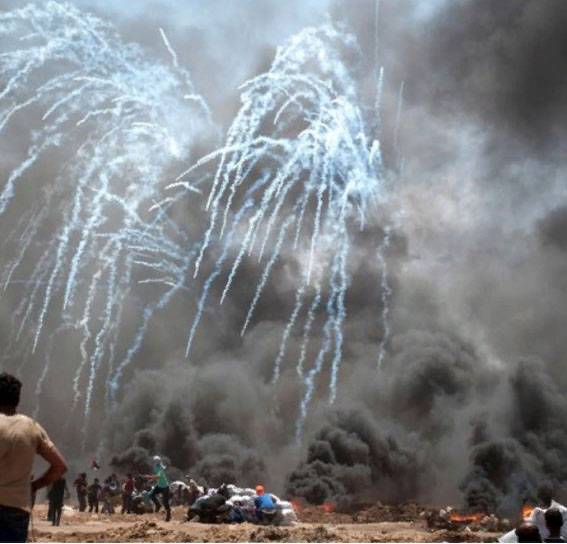 If you believe reports that Hamas activists are paying money for participating in a protest rally and getting injured, then it can be stated that many of the protesters had a "financial incentive" to literally climb on the rampage and try to break through the fences. At the same time, attention is drawn to the fact that the Israeli command is not reporting any of the casualties among the soldiers of the Israel Defense Forces. If they are not there, then it is quite obvious that the use of force, as expressed in diplomatic circles, was disproportionate.
Recall that the territory of the Gaza Strip was bombed by funds
aviation
Israel, in response, Israeli territory was fired by unguided shells.
Against this background, it is reported that Turkey recalled its ambassador from the United States in connection with the massacres of Palestinians in the Gaza Strip, which (murders) Ankara has already called a war crime.
During the opening of the US Embassy in Jerusalem (and it was this step that provoked mass demonstrations in Palestine), Ivanka's spouse Trump Kushner said the following:
When we look back on this day, we'll remember that the path to peace began with a strong America, recognizing the truth!
The whole question is what really begins the "road to peace." If we consider that peace, as understood by the United States, may be somehow connected with the constant armed clashes between Israel and Palestine, the question is also about how far ordinary Palestinians and Israelis are prepared to share this position. Does he see each other as an enemy?