In Ukraine, the next department began to work, which, in fact, cannot have work by definition. We are talking about the beginning of the "hectic activity" of the so-called patrol police of the Crimea and Sevastopol, which is formed on the territory of the Kherson region. Information about this is published on the Facebook page of the Kherson Patrol Police Department.
From the statement:
In Kherson region, a separate department of patrol police in the Crimea and the city of Sevastopol began work.

He was headed by Viktor Levchenko. He was presented to the staff by the First Deputy Head of the Department of Patrol Police of Ukraine Alexey Biloshitsky.

From now on, 65 patrol police are working on administrative borders from the Crimea. They will be stationed at roadblocks in three border areas: Genichesky, Kalanchaksky and Chaplynsky. Also, law enforcement officers will monitor the main routes connecting the mainland with the peninsula.

The start of the separate department of the patrol police in the Autonomous Republic of Crimea and the city of Sevastopol was held at the Azov post of the Genichesky district, located on the 500 kilometer of the M-18 Kharkiv-Simferopol-Alushta-Yalta highway.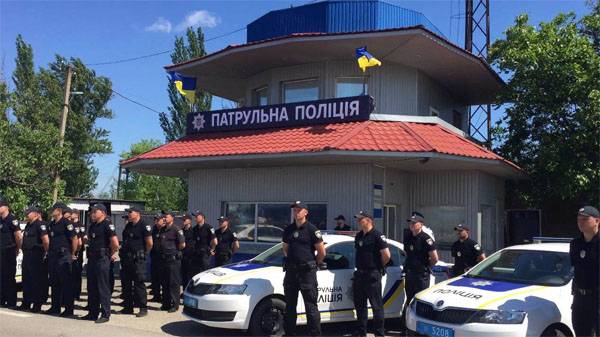 Biloshitsky:
Crimea is our land, and there should be patrol police on it. I believe that the time will come when patrol police will patrol the entire peninsula. Today, police sent from various regional departments of the patrol police have been sent to patrol the border zone with the Crimea. The head of this division, Viktor Levchenko, is one of the best patrolmen, a professional we are proud of.
It is noted that the patrol officers will be on duty at the Arabat Spit in the area of ​​resort settlements.
In Crimea, responded to the formation in the Kherson region of the "patrol police of the Crimea and Sevastopol" as follows:
It would be better if these people thought about bringing order and law enforcement in their own country.