Oddly enough
история
with poisoning in England, the traitor Skrypal and his daughter recently received a sequel. And, oddly enough, it is not at all the way true customers and executors of the action would certainly like.
On May 8, some Russian media published information that a runaway Russian businessman (and a former Sverdlovsk deputy in combination) Sergei Kapchuk "surrendered" to representatives of the Russian embassy in Zagreb.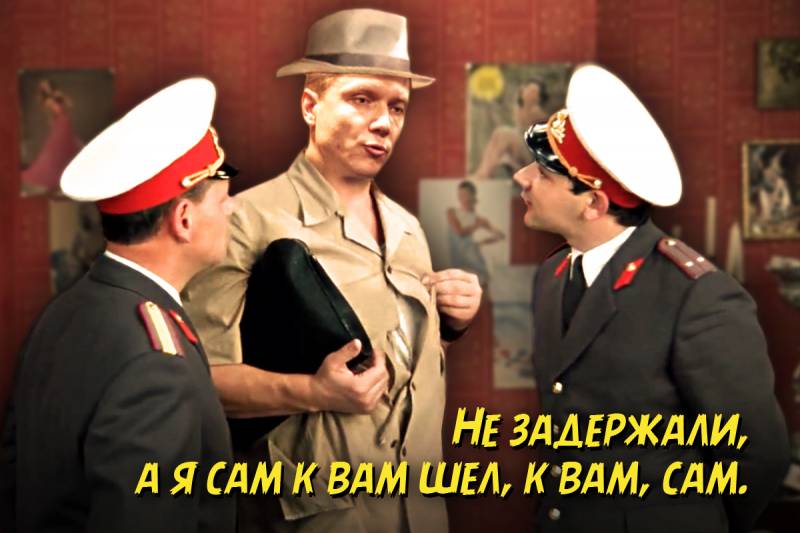 The reason for this unusual behavior for the Russian fugitives was Kapchuk's statement for the REN-TV channel, in which he stated that Western special services themselves had organized the poisoning of Skripal to justify tougher sanctions against Russia and attacks on Syria.
More precisely, not the statement itself, but the reaction of the British authorities to it ...
The story of Sergey Kapchuk is in fact worthy of a whole novel. A successful (in the past) businessman, a deputy, he and his twin brother rather actively opposed the almost all-powerful Uralmash organized criminal group in the Urals. However, let us be frank to the end: he was not a defender of the humiliated and oppressed, and the confrontation was primarily in the nature of the struggle for the assets of various Ural enterprises. But all the same, let us pay tribute to his courage: in the "zero" and earlier few would have dared to do that.
The result of this confrontation was a trumped-up criminal case. In November, 2005, brothers Sergey and Konstantin were found guilty in this case. Konstantin went to prison, where he spent a year and was released under an amnesty, and the sentence was passed in absentia with respect to Sergei, since by that time he had already left the territory of Russia.
We saw Sergei in Cyprus, then in the United Arab Emirates, and after concluding an agreement with the latter on the mutual extradition of suspects and criminals, Sergei Kapchuk moved to London, from where, as you know, there is no extradition.
This story is typical enough for the Russian business of the last three decades, and it's not worth it to focus on it. However, it is directly related to what is happening at the moment, and now you will understand it.
The fictitiousness of the charges, on which Sergey Kapchuk was convicted, was obvious, in particular, for the business ombudsman of the Russian Federation, Boris Titov. That is why Sergei entered the list of businessmen who want to return to Russia, compiled by Titov in the spring of this year. As well as B. Titov promised Kapchuk legal protection and, if possible, a change in the measure of restraint until the final decision on the question of criminal prosecution in that very case of 2005.
At the same time, it should be noted that even Boris Titov does not have the authority to exempt someone from responsibility for criminal charges. And making such a decision, S. Kapchuk showed a certain personal courage: the Russian prison formally still waits for him, and the handcuffs may withdraw immediately upon arrival in the Russian Federation.
And it was precisely this moment that became a turning point in the relations of the runaway deputy and merchant with the British authorities. The climax of this "discord" was an episode when a journalist from a British television channel made an appointment with him, but a stern counterintelligence officer arrived at her, who arranged a questioning of a "political refugee" who was taken aback. And he was not just asked, he was strongly advised to accuse Russia and Putin of Skripale poisoning, citing the fact that "there is no one else".
After such a rich conversation, the former Ural businessman, although not a timid one, came to the conclusion that it's time to blame. But this time - not from Russia, but from blessed Britain. According to him, at some point he realized that he could become the next "sacred sacrifice", only now, unlike Skripal, this one.
After these events, our today's hero came to the Russian embassy in Paris, where he issued that very surrender. But since the official response had to wait several days, he began to travel around Europe, hoping that it would be harder to track him. However, he made a mistake: he forgot that Croatia is not part of the Schengen Agreement, and when crossing the border, Croatian border guards confiscated his British passport, and he himself was recommended to return to London.
After that, Kapchuk had no choice but to appear at our embassy in Croatia in order to somehow secure himself for the next few days, while the question of his return to his homeland is being decided.
The story, whatever you say, is very rich in plot twists. I would especially like to draw attention to the actions of the Croatian police. Indeed, up to this point, much of what Sergei Kapchuk said was a bit like a paranoid fit. And surely there would be quite a few "handshaking people" who were ready to declare that this was a slander of elven special services, but in reality they just wanted to warn the lost businessman in a friendly way about the danger. But the speed with which these kindest elves annulled the British Kapchuk passport shows quite eloquently: he was really "herded", he was strongly disapproved of intentions, and if he had stayed in the UK, it might not end well.
Frankly, in this story is still too early to put an end. Sergey Kapchuk is not yet in Russia, the final decision on his case has not yet been made.
But we can hope that he will become one of the first swallows. One of the first to fill his fill was Russophobia, tolerance, the beyond hypocrisy of the Western democracies. And God willing, behind him will be pulled home and others, including successful entrepreneurs, and scientists, and highly qualified specialists in various technical and humanitarian fields.
It is clear that we may have many questions regarding the reasons for their departure and doubts about the sincerity of their intentions when returning. But there is a time to throw stones, and there is a time to collect them. And it's much nicer, you see, to collect not stones, but people.
The main thing is not to forget those who did not go anywhere, but turned out to be outside their homeland not on their own will. About Russians from Central Asia, Transcaucasia, the Baltic States, Ukraine, etc. About those who did not have the opportunity to become a deputy or a merchant, but who also dream of returning to Russia one day - whether by itself or with the land of their own, which once was given to someone for some reason.
But this is a completely different story.