Information resources related to the activities of the Hussites in Yemen, publish material in which it is said that the Hussite armed units fired several rockets across Saudi Arabia. These are the Badr-1 missiles. Production of these missiles is established in Yemen. The launcher for Badr-1 missiles is the installation of the format MLRS.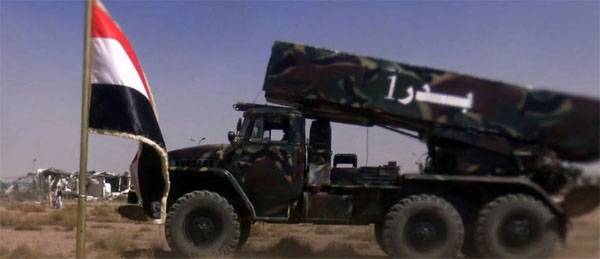 Stated that the main objectives of the Hussite missiles were oil production facilities of Saudi Aramco, the largest oil company in Saudi Arabia. Hushits claim to have caused significant damage to the company's infrastructure in southern Saudi Arabia. The official confirmation of damage caused by Saudi Aramco itself has not yet been published.
Yemeni pro-Hussite media also reported that the Hussites shot down a Saudi drone who was trying to enter the airspace of Yemen from the province of Jizan. This Saudi province has recently become increasingly faced with Hussite shelling. Not so long ago it was in Djizan that the Abrams tank belonging to the army of Saudi Arabia was destroyed. As part of the column he was supposed to cross the border with Yemen.
In Saudi Arabia, previously stated that rocket attacks on its territory are carried out with the encouragement of Iran. Recall that earlier Hussite rockets had already reached the capital of the kingdom - Riyadh. Then, to put it mildly, the Saudis did not quite successfully use the Patriot complexes.