The French government has de facto recognized Sevastopol as Russian. On the official website of the French Ministry of Culture information appeared about the holding of the "Museum Night" action in different countries of the world. It tells about the action in the museums of Sevastopol. At the same time in the signature to the name of the city it is noted that he is in the Russian Federation. Link to
broker
Ministry of Culture of France.
Screenshot from the site at the moment: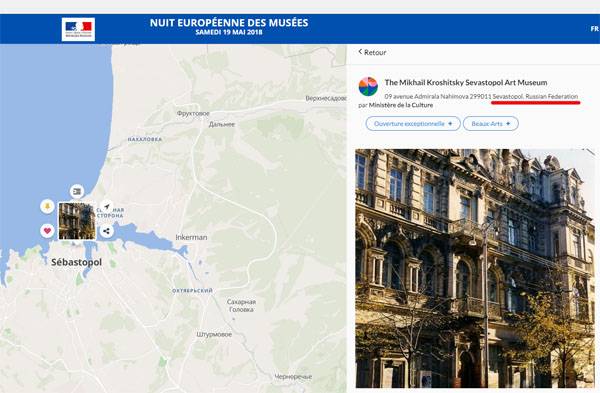 Thus, it can be stated that even if the French Ministry of Culture addresses the address, the French's understanding that the Crimea and Sevastopol are Russian is already at a subconscious level. By the way, this is not the first actual recognition of this kind. The cartographic services of a number of countries, including European ones, have repeatedly published maps where the Crimean peninsula is designated as part of the Russian Federation. Textbooks were published with maps of the Russian Crimea in some countries of the world, including China.
All these episodes react extremely painfully in Kiev, each time declaring publications about the Crimea and Sevastopol as Russian territories "unacceptable." Now what? - Poroshenko will impose sanctions against the Ministry of Culture of France.