A spokesman for the Russian Prime Minister, Natalya Timakova, reports that Dmitry Medvedev will go to the president tomorrow to discuss the composition of the new government. At the same time, Timakova replied that this does not mean the official announcement of the composition of the Cabinet on the same day. A spokesman for Dmitry Medvedev said that it was tomorrow (according to the Constitution of the Russian Federation) that the deadline for proposing candidates for ministerial posts would expire - a week from the date of appointment of the Prime Minister.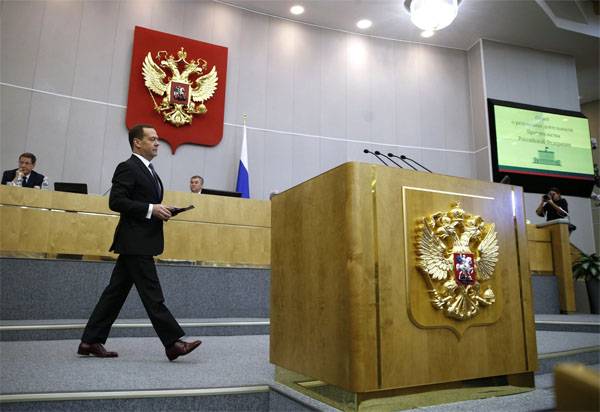 Today is RIA
News
with reference to its own sources, it provides some details about the staff of the future government. If you believe the sources, then two ministers from the "past" composition will definitely keep their posts in the new Cabinet. We are talking about the Minister of Defense Sergei Shoigu and Russian Foreign Minister Sergei Lavrov. These are the ministers whose rating in the cabinet of the 2012-2018 sample was the highest among all government officials with ministerial portfolios.
The same source names the names of ministers who leave their posts. This is Mikhail Abyzov, who heads the Ministry for the so-called Open Government, this is the Minister of Agriculture Alexander Tkachev and this is the head of the Ministry of Transport, Maxim Sokolov.
It is stated that in the new government, Aleksey Gordeyev (now the Permanent Representative of the President in the Central Federal District) and Anton Siluanov (Acting Head of the Ministry of Finance) will combine the posts of ministers and vice-premiers.
Also named and names that have already sounded - in terms of vice-premier posts. They are Tatyana Golikova, Olga Golodets, Konstantin Chuichenko, Dmitry Kozak, Yury Borisov, Maxim Akimov and Vitaly Mutko.