Israeli troops in the current confrontation with the Palestinians on the border with the Gaza Strip with the protesters do not stand on ceremony. During the day, the number of dead Gazans rose to 28 people. And this is clearly not a summary. It is reported by the news agency
Reuters
. 28 killed in Palestinian-Israeli clashes is a sad record since 2014.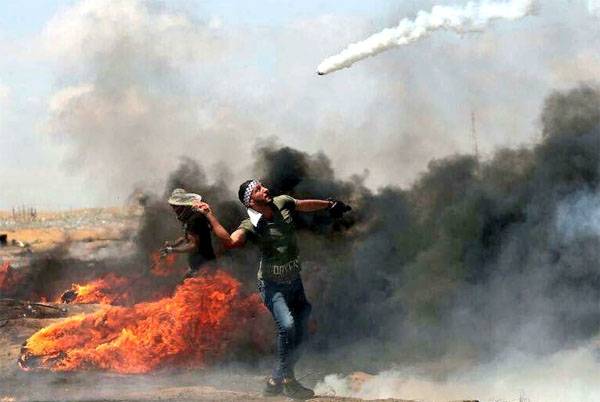 Recall that the numerous protests of Palestinians are associated with today's opening ceremony of the American Embassy in Jerusalem. Rallies and speeches are held not only on the border of the Gaza Strip and Israel, but also on the west bank of the Jordan River. Collisions are also found in Israeli cities.
The Palestinian Ministry of Health claimed that about 900 people were injured, and several dozen people were shot.
Israeli sky raised
aviation
. Aircraft strike at targets in Gaza. According to the IDF press service, the objects belong to the Hamas movement, which in Israel is recognized as terrorist. Also, the Israel Defense Forces use drones that spray tear gas.
In response, the Gaza Strip opened fire with unguided projectiles on Israeli territory. About the dead and wounded from the Israeli side is not reported.
The Prime Minister of Israel, commenting on the current transfer of the American Embassy to Jerusalem and the anniversary of the founding of the state, called today "the greatest for Israel."
In the Arabic-language editions of today's events called "slaughter, which could have been avoided if both parties perceived each other on an equal footing and did not succumb to external provocations."