1998 year. Once, when one of my business trips to Moscow began, I was already sitting in my compartment next to my fellow traveler, a student-looking guy. A woman quickly entered the compartment, put things on her shelf and addressed me and the student: "Guys! I have three heavy bags in front of the car, bring it here, I'll pay ..." The guy and I fulfilled her request, but refused the fee. The neighbor warmly thanked us, and when the train started, she began to persistently give us homemade pies, boiled eggs, roast lamb and other food of obviously rural origin.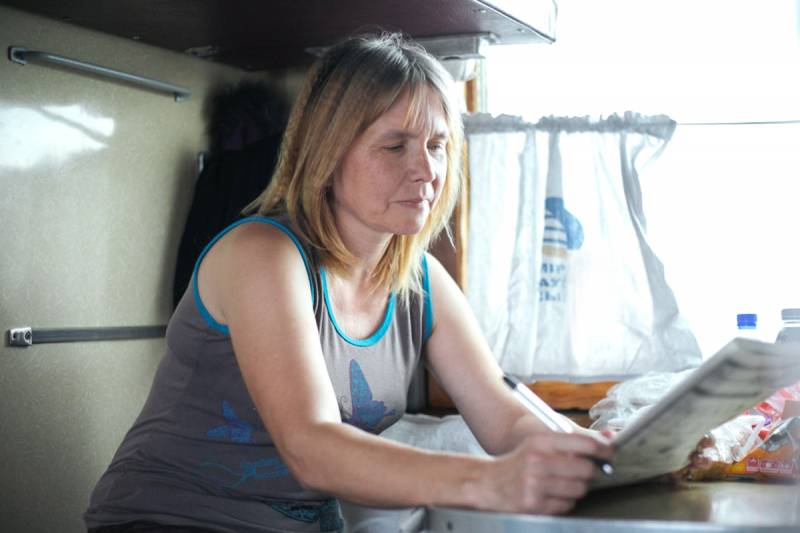 Gradually, we started talking. The neighbor was 45 years old, went to Moscow to her married daughter, and in heavy bags she carried gifts in the form of various food supplies from her farmstead. As it turned out, she lived in the village of the former state farm in one of the Trans-Volga regions of the Volgograd region. This steppe area is known for its melons, tomatoes and watermelons. And in the local "pampas", small herds of half-wild horses and flocks of sheep have recently been pacing, although, on the whole, local agricultural enterprises looked deplorable.
The neighbor was a cheerful woman, talkative, told a lot about herself and with pleasure. She was originally from Armavir, lived there almost all her life and worked in the laboratory of instrumentation as a technician. At forty she was widowed; her daughter was already married in Moscow by that time. And the lonely widow decided to start a family again. For this she turned to newspapers with marriage announcements and found a suitable person for about a year. He was a childless widower a little older than her, who lived in the state farm village of Volgograd Trans-Volga. Then I try to directly reproduce what she told me:
"I was very lucky with the new husband. He was listed as chief engineer at this former state farm. The director lured him there when things went wrong in the army. He had previously served as a major in an engineering regiment who was standing nearby. His first wife was a very unhealthy woman, she couldn't have children. He himself is a non-drinking man and with an eccentric! His hands are golden and don't feed him with bread, let him make or invent something ... And he likes reading books and collecting books. He came to me very much, so they took the risk and gave birth to almost forty years. lsya is a lovely sight! Zdorovenky, lively, smart, he is already 6 years old. My husband says that this is our little prynts, so he calls him, prynts and prynts! Well, and pryntsu is a legacy. We began to raise our economy. sovkhoz, nothing was left. The authorities were trading the remnants, the hard workers from the gardens were feeding themselves somehow, and the last shirts drank their last shirts.
When the state farm land was divided into shares, each had on 11 hectares. So my husband and I have 22 ha. Why, this is all steppe unwelding. But my husband came up with, dug a few wells with the men, and bungled irrigation on our 2-s hectares. We rented this land to the Koreans for onions, and they also took 10 hectares for melons and watermelons. From this we have the first money. Gradually, we used all our land, then we started raising meat for sheep and gobies, we built a barnyard. My husband's city relatives took meat from us to the bazaar, to shops, and then two more factories began to make orders to their canteens, it became generally very convenient and profitable.
We began to expand, we rented the neighboring land, and we took our neighbors into our work instead of the state farm. Only the people were spoiled, everything strives to steal small things for a drink or beg, especially women. But it's easier with the women, I don't refuse their requests, there are flour or potatoes, and then I ask myself what to do in the garden, walk around the cattle, wash it, clean the house. They are in the habit, and not for long, but I have time for my affairs. My most important thing now is to hire men to persuade, not to give to drink at work, to loaf and to steal. Oh, and I drank at first! But then I somehow wiped out ... My husband and I paid honestly, not state-owned, so the women gradually began to help me with their husbands to manage their own ... Little by little, the remnants of the state-farm equipment were repaired, but they let it go.
Next year we think almost all the land in the village is listed, sow wheat. My husband and I believed a bakery in the city and concluded a contract so that we hand over wheat to their grain elevator. So it went. A month ago, my husband and I bought a Kirovets tractor, K-700 ... under this agreement and drove them
I listened to my little rustic companion, more and more penetrating with admiring surprise. "Kirovets", K-700 - this is a roaring diesel monster with huge wheels, the most powerful tractor of the Soviet era!
Yes, there are women in Russian villages ... And they have no translation!